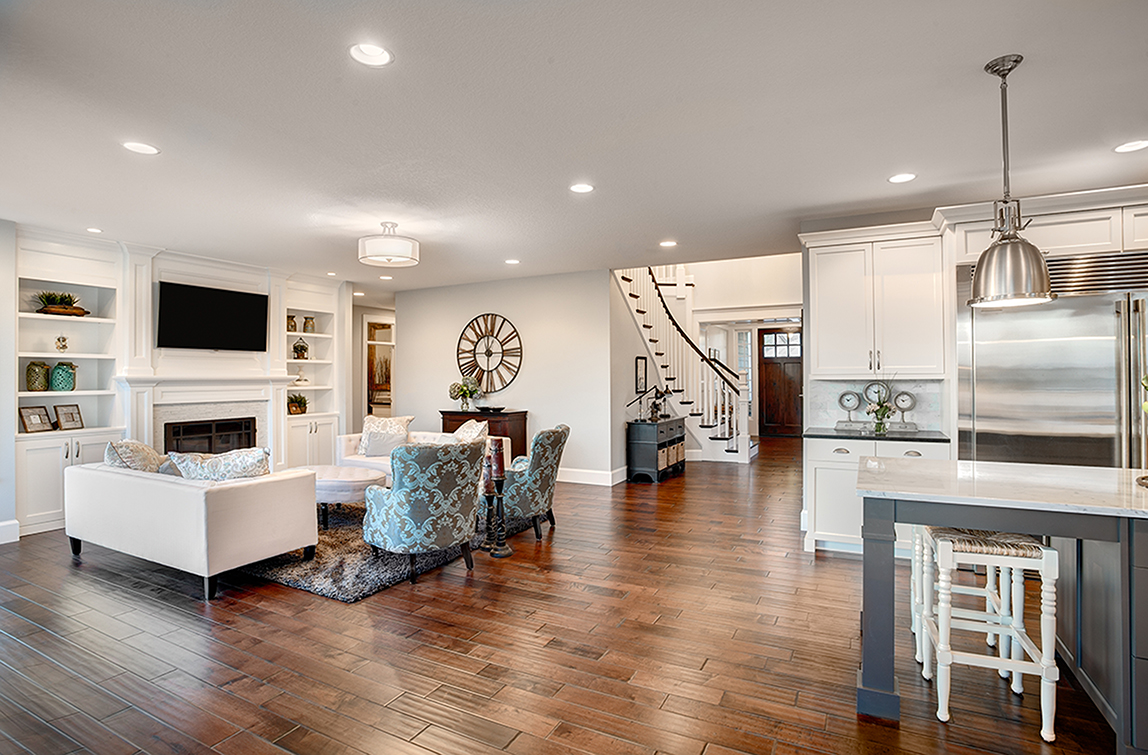 Today's buyers appreciate extra space and an up-to-date look.
A good house flipper typically takes a subpar property and turns it into a highly desirable one, essentially turning a frog into a prince. Still, house flippers must walk a fine line between improving a property enough to attract buyers and keeping costs low enough to preserve their profits.
The most effective way to maximize your profits is to track the return on investment of various home improvements and renovations, just as you would if you were projecting income from a rental. After all, if you spend $20,000 putting in a swimming pool and doing so only ups the sale price of the home by $10,000, you've lost money. Lose too much money on an unwise renovation and you may have to unload the property to a cash buyer. On the other hand, if you spend $500 painting the interior of your home, and it increases the value by $5,000, you're on the right track.
There are a lot of home improvements that offer a great ROI. Here are 13 renovations that will have buyers lining up to make an offer.
1. Painting
A fresh coat of paint on the walls of a house is one of the easiest and most cost-effective improvements out there. Painting your home only costs as much as a few cans of paints, some brushes, and a few dropcloths. It's a great option if you're relying on unconventional financing for your renovation. A good paint job makes a home look brighter, cleaner, and newer. Depending on the size of your house, paint jobs can be completed, even by amateurs, in just a handful of days.
Experts suggest going for softer, neutral colors such as light gray, beige, eggshell, or "greige." White may seem like an obvious choice, but it can look very harsh.
2. Bathroom Remodel
Along with kitchens, bathrooms are often a decisive factor in a home's appeal. Prospective buyers base a lot of their feelings on a home's modernity and overall aesthetic by looking at the bathrooms and kitchen, so you want them to look as sharp as possible.
A practical bathroom remodel doesn't mean tearing down walls and redoing the plumbing. A transformative remodel can focus on details like finishes—installing a new basin and taps, replacing a conventional showerhead with a rainfall showerhead, modernizing the lighting, and bringing the color scheme up to date.
3. Landscaping
You've probably heard the term "curb appeal" before. It describes the first impression your home makes on prospective buyers as they approach from the street. This first impression is crucial. Most buyers decide whether they like a home within a few seconds of laying eyes on it.
Landscaping can have a massive impact on a home's curb appeal, especially if it's a distressed property or one that hasn't been maintained. You want to walk a fine line between establishing neat, clean lines while avoiding the impression your yard is "high maintenance"—which can turn buyers off. Trim grass, trees, and hedges and remove any visual obstructions blocking your home's façade. Consider putting in strategically placed flowers to brighten up the yard.
4. Kitchen Remodel
Similar to the bathroom remodel, freshening up your kitchen can pay big dividends. An effective kitchen remodel doesn't require a huge gut renovation. Instead, you can focus on cosmetic changes and updates—new, classy appliances (stainless steel is always admired), updated light fixtures, refinished cabinetry, and an updated color palette for the walls and counters.
5. Home Office
Since the pandemic began in March 2020, demand for home offices has exploded. As employers across the country make work-from-home policies permanent, this is going to be a top-tier home feature for the foreseeable future. Some buyers are even looking for homes with multiple home offices! Size isn't a huge consideration, and even something like a converted walk-in closet can often make a great home office.
6. New Door
Remember when we said curb appeal is a huge factor in what kind of impression your home makes on a buyer and that most buyers make up their minds about a home within seconds? A new front door is one of the most effective ways to boost a home's sale prospects.
According to experts, a classy, understated black or charcoal gray front door provides the largest boost to resale value. On the other hand, bright, eye-catching colors like turquoise, yellow, and pink are the most effective in selling a contemporary home. Make sure you match the style of your new door to the style of the rest of the home.
7. Deck or Patio Addition
Adding outdoor space or enhancing outdoor space with features like a patio or deck is a no-brainer. Adding these features expands the amount of usable space that comes with the home, just as if you were adding a bedroom—and it will provide a big boost to the home's value.
8. Basement Finish/Renovation
A fully finished basement is a huge selling point, as it can be used as an extra bedroom, a home office, or a recreation room. Like other items on this list, you're adding more livable, usable space to the home, which adds to the property's value and appeal.
9. New Windows
When it comes to enhancing a home's curb appeal, new windows are right up there with a new front door and fresh landscaping. Gleaming new windows are aesthetically pleasing. And insulated, energy-efficient windows convey that a home is up-to-date and won't cost the next owner unnecessary money on utilities.
10. Refinished Hardwood Floors
Freshly refinished hardwood floors can make a home look newer and classier—and make a buyer more willing to pony up for a high price. If you have wall-to-wall carpeting, ripping it out and redoing the wood floors can dramatically increase a home's value. Like painting the walls, you can do this yourself in a relatively short time.
11. Attic Bedroom Conversion
Adding an entire new bedroom to your house has obvious appeal, especially if it's a family-oriented home. Attic bedrooms also have a unique, cozy charm that extend their appeal beyond just an extra bedroom. Keep in mind that converting other finished spaces, like basements, into extra bedrooms, can also be a huge upgrade.
12. Open Floor Plan
Most buyers today prefer an open floor plan, especially when it comes to central shared spaces like the kitchen, dining room, living room, and family room. Knocking down walls between rooms is actually quite complicated, so you'll want to let a qualified, licensed contractor handle this job for you.
13. New Garage Door
Like new windows and a gleaming new steel front door, a new garage door can substantially increase your home's curb appeal. A fresh new garage door looks nice, and a new, smoothly running garage door system tells buyers your home is well-maintained and updated. There are few things more off-putting to buyers than a squealing, shaky garage door.
---
Luke Babich is the co-founder of Clever Real Estate, a real estate education platform committed to helping home buyers, sellers, and investors make smarter financial decisions. A licensed real estate agent in Missouri, his research and insights have been featured on BiggerPockets, Inman, the LA Times, and other media outlets.
Babich has a bachelor's degree with honors in political science from Stanford University.