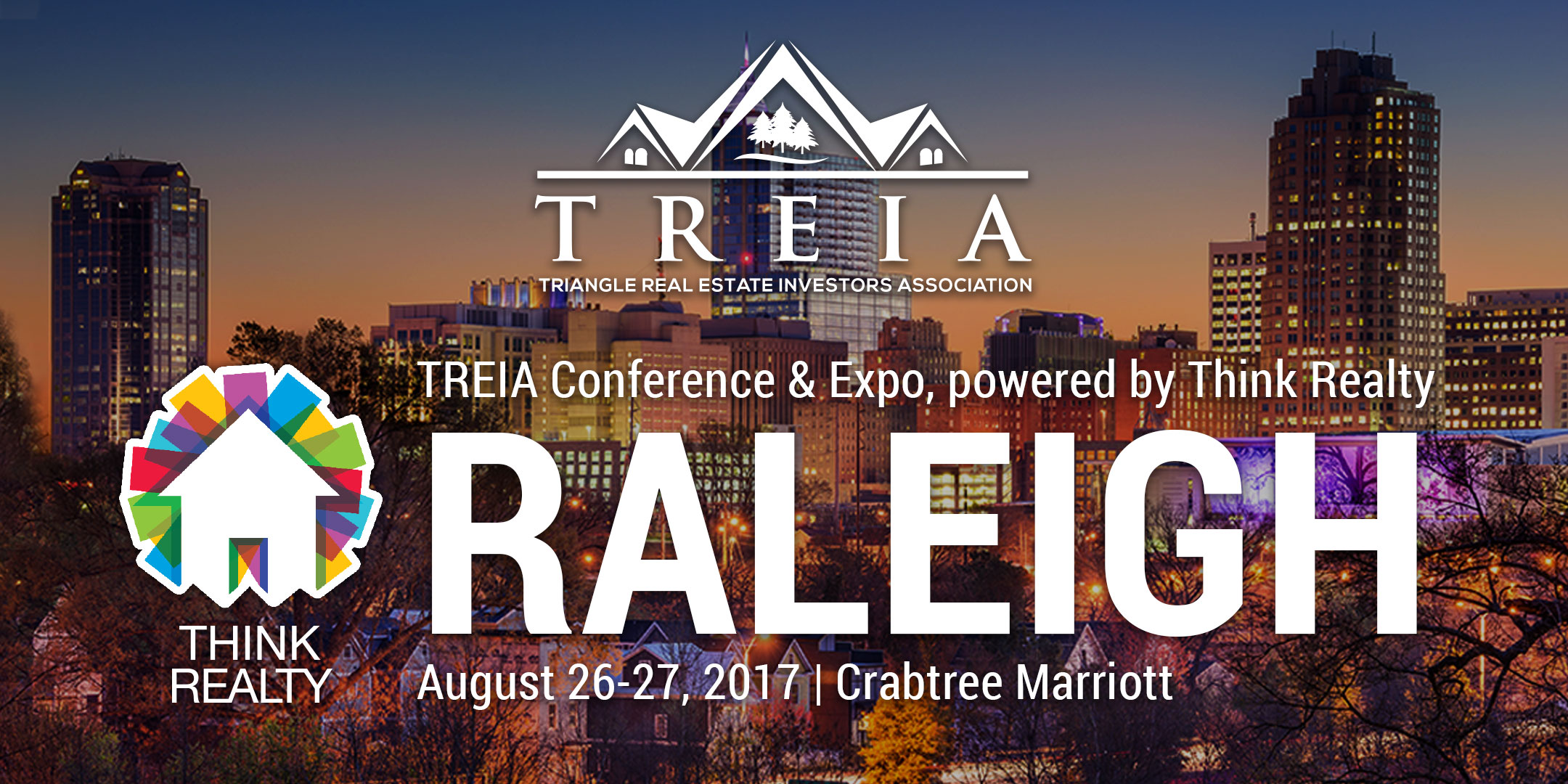 Most of us happily acknowledge that real estate is a true cornerstone of lasting wealth and, in all likelihood, the most widely accessible means to establish a permanent financial legacy. However, the leap from new investor to successful, active investor is often a wide one. The Triangle Real Estate Investors Association (TREIA) in Raleigh, North Carolina, hopes to bridge that gap at an exciting TREIA Conference & Expo powered by Think Realty on August 26-27, 2017, at the Crabtree Marriott in Raleigh. Speakers from around the country, including Ron LeGrand, Jeffrey "Mr. Landlord" Taylor, Ted Thomas, Steve Down, and many more, will join forces at this two-day event. Providing powerful education and information real estate investors need to ramp up existing businesses and profits, fine-tune current investment strategies, or finally make the leap into success in the industry.
"It may surprise you that you don't need a ton of money to make money in real estate," said Chuck Jurgens, TREIA president. In fact, he speculated that investors might actually be better off getting started without much money. "When you have to be careful with your investment capital, it forces you to be educated and really understand what you are doing and how you are going to make money on a deal before you do it," he explained.
Jurgens proudly noted that the speakers' roster for the TREIA event is packed full of individuals who know firsthand how to succeed in real estate and effectively educate others on the topic. "Our speakers include folks who had credit problems or could barely make ends meet," he pointed out. "A lot of them got started in real estate while working full-time jobs and supporting their families at the same time. A lot of them had families and friends who thought they were crazy and even hoped they would fail. They understand firsthand what real estate investors need to know to make the leap," he said.
In addition to two full days of education, the event will play host to dozens of service providers eager to meet and network with attendees. "It's all about who you know in real estate, so get to know the people who are willing to spend their entire weekend trying to get to know you and work with you," said Jurgens. "We want every attendee to be able to put together a real estate 'power team' before they leave our event and catapult their investing success to the next level, wherever that level may be."
Learn more about this event at https://thinkrealty.com/events/treia-raleigh/.