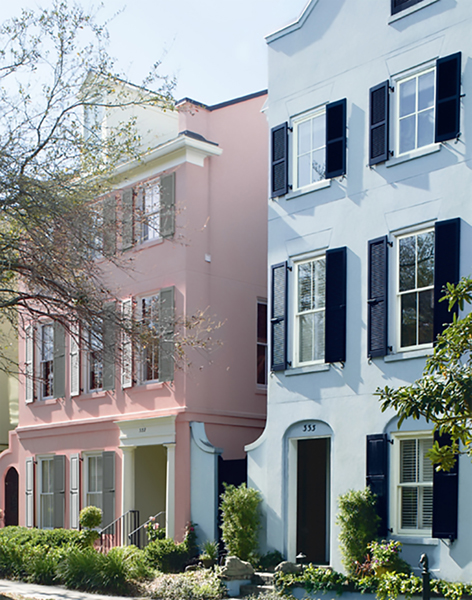 Nationwide brands Benjamin Moore and PPG and flooring supplier Tarkett have partnered with Think Realty to provide its members—real estate investors like you—savings on quality supplies and services to help you keep up your investment properties while keeping more money in your bank account.
Benjamin Moore: Home Color Inspiration
Benjamin Moore paints have a reputation for quality, whether you're painting inside or out. Although you can redeem discounts on both interior and exterior Benjamin Moore paints, the team at Benjamin Moore explains how you can choose the right exterior paint for your next fixer upper or remodeling project:
The Right Light
Just like interior paint colors, exterior colors shift depending on how the light hits them. Outdoors, surrounding landscapes also play a role in how a paint color is perceived.
Always "try on" your paint colors with a paint sample, available at your local Benjamin Moore retailer. Once you have applied color samples, observe the color during different times of the day.
Finish Lines
Color is only one aspect of an exterior paint choice; sheen is another important factor. Low Lustre finish is a top choice for the main siding color—the low-reflective finish adds a slight gloss, hides surface imperfections, and cleans well. Semi-gloss paints add extra durability and clean up easily, making them a good choice for areas such as windowsills that bear the brunt of weather shifts. High-gloss finishes make color look richer but magnify surface imperfections.
Select Color with Confidence
With over 3,500 paint colors to choose from, Benjamin Moore's color selection is unparalleled—but can be overwhelming for many homeowners.
The good news is that we offer a wide range of tools and resources designed to help select color. You can differentiate yourself and your properties by matching wallpaper, rugs, tear sheets and more with Benjamin Moore colors using our ColorReader device and the Benjamin Moore Color Portfolio™ app.
The lightweight and professional-grade ColorReader and ColorReader Pro devices match any color to the Benjamin Moore paint color equivalent—with over 90% accuracy. While both pair with the Benjamin Moore Color Portfolio® app via Bluetooth®, the ColorReader Pro can also be used independently from the app.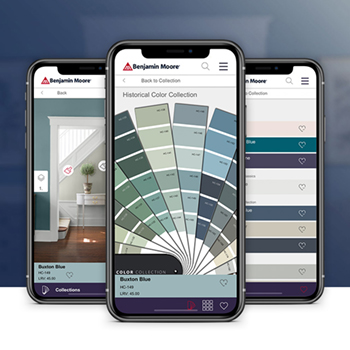 With the Benjamin Moore Color Portfolio® App you can:
Use the photo and video visualizers from your phone to "try on" colors in a room.
Quickly find Benjamin Moore paint colors that match the colors your clients love.
Use on a larger format tablet view to spur faster paint color decisions.
Easily access Benjamin Moore fan decks: Color Preview®, Benjamin Moore Classics®, Affinity®, Historical Collection, Off-Whites and the Designer Classics.
Save and store paint colors for easy future reference.