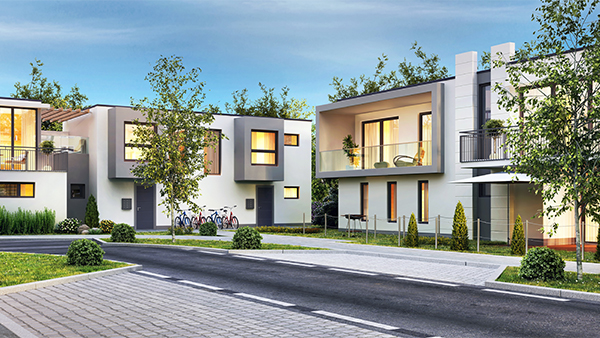 How multifamily investors can reposition themselves in 2021 and beyond
Urban And Suburban Tradeoff Accentuated by the Health Crisis
The drastically different lifestyles of quarantine and the shift to remote working are having an immediate impact on renter preferences, with implications for multifamily properties and investors. Living space is taking priority over location for many who are currently searching for an apartment, leading tenants to the suburbs, where unit sizes and communal areas can be larger. Additionally, entertainment, nightlife and other urban amenities that typically entice renters to downtown apartments are closed or operating at limited capacity, stunting demand for nearby living options. The suburban momentum linked to downtown business closures will subside in the near term as progress is made on combatting the pandemic. However, a longer-term shift benefitting suburban multifamily could emerge if more companies keep their staff remote into the future. Employees that aren't tied to a physical office can be more flexible in their apartment search and may find more affordable living options in the suburbs that can better accommodate an at-home workspace. Apartments near urban office districts could notice a downtick in demand if a significant portion of nearby employers keep operations remote or relocate to suburban settings. Multifamily investors seeking higher initial yields may be inclined to expand their search criteria beyond the urban core, while investors thinking toward a longer-term recovery may seek urban assets with upside potential.
Millennial Movement Out of Downtown Accelerated Last Year
Expectations for suburban household growth were strong prior to the health crisis, underpinned by population dynamics. Many of the aging millennials that helped fuel robust urban apartment absorption over the past cycle have matured into their family formation years. Those with growing families are seeking more space than the urban core can offer. This trend was boosted by the events of last year, as population density became less appealing and remote work and schooling crowded living spaces. Many households in this situation became first-time homebuyers, assisted by low interest rates, pushing the homeownership up significantly in 2020. This surge in homeowner demand — combined with supply limitations imposed by higher construction costs and fewer existing homes on the market — raised sale prices and made single-family homes even less attainable. Families outside the margin of meeting the down-payment requirement may opt to rent from a suburban multifamily property. Apartments in these settings are generally surrounded by higher-quality schools and have more spacious floor plans, top considerations of later-stage millennials with young families.
A Few Large Markets Primarily Responsible for Adjustment to Urban Fundamentals
Nationwide almost 3,000 urban units returned to the market last year, though conditions from metro to metro were far from uniform. New York City was responsible for the bulk of negative absorption in the country, with a net dispensation of more than 15,500 downtown rentals. San Francisco, Seattle-Tacoma, Boston and Chicago also returned a combined 10,000 units of urban apartments back to the market in 2020. Outside of those five major markets, demand for downtown apartments softened by a much lesser extent. The next 10 largest U.S. apartment markets by inventory recorded compounded positive net absorption of more than 11,000 units downtown. When rolled in with the rising availability of the larger metros, however, the national urban vacancy metric still jumped 250 basis points in 2020 to a more than two-decade high of 6.6 percent. Sluggish demand in key cities also pushed the downtown average effective rent lower by 7.2 percent last year, the steepest decline since 2009, to a six-year low of $2,400 per unit. While more near-term challenges lie ahead for apartments in the inner cores of densely populated cities, the long-term outlook remains promising. Many young adults still prefer the downtown lifestyle and will want to live in areas that are proximate to shops and services once they can fully reopen.
Supply Pressure Weighs Marginally on Suburban Vacancy and Rent
Across the country nearly 160,000 suburban rentals were absorbed last year, 20 percent fewer than in 2019. Despite sturdier demand for suburban apartments than urban, vacancy ticked up 30 basis points nationally to 4.3 percent and the average effective rent dipped by 0.6 percent to $1,479 per unit. New supply pressured fundamentals. Last year roughly 214,000 suburban rentals were finalized, up 34,000 units from 2019. The pipeline for this year is weighty as well, particularly in the suburbs of fast-growing Sunbelt markets. Dallas/Fort Worth will lead the country with more than 28,000 new suburban units this year. Houston, Atlanta and Charlotte are scheduled to add more than 10,000 suburban rentals each in 2021 as well. Alternatively, other metros with less competition from new supply posted notable suburban vacancy drops in 2020, including Riverside-San Bernardino, Sacramento, and Las Vegas. Some markets without strong in-migration tailwinds are also undergoing significant internal suburbanization from existing residents. Indianapolis and Columbus may be prime examples, with suburban vacancy in these metros contracting by at least 40 basis points while urban vacancy jumped by more than 250 basis points in 2020.
Multifamily investors adjust strategies for 2021
Given current migration trends, first-ring suburbs with urban-like amenities will be among the most favored locations for buyers. These inner rings benefit from both short-term demand drivers, like households escaping from population density, and long-term momentum from suburban office absorption. In the urban cores of challenged gateway markets, buyers may realize value-add opportunities with bidding competition moderated. However, near-term hurdles in those metros are greater than in fast-growing Sun Belt metros, where capital is increasingly flowing into both urban and suburban properties.
John Chang serves as the National Director of Research Services for Marcus & Millichap. He is responsible for the production of the firm's vast array of commercial real estate research publications, tools and services. Under his leadership, Marcus & Millichap has become a leading source of market analysis, insight and forecasting, and the firm's research is regularly quoted throughout the industry and in mainstream business media.