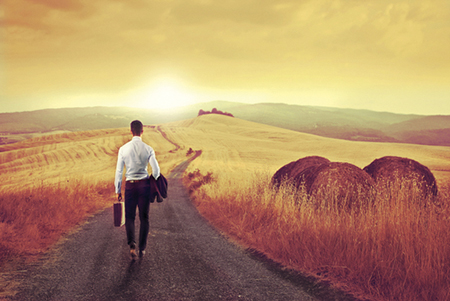 Are you are looking to implement a new daily discipline that will motivate you to run eagerly to start the day? You might want to consider a treadmill desk, which could provide an enormous boost to your motivation, productivity and creativity. A new routine could be the best investment for you or your family. Plus, you can't beat the long-term yield.
Consider the many hours the average investor spends hunched over a computer drifting through website pages, searching for properties or trolling through tax records and auctions. All of this activity to hunt down your next deal.  While our ancestors may have spent the day hunting for survival. Such a life involved miles of walking and physical ambushes to be a successful hunter and provide for their family.
While you are managing your property records and completing deposits, these tasks may be empowering and profitable, but the hours do little to help with your quickly expanding waistline. A treadmill desk may provide a stable investment in your health. Consider the new walking routine as a hedge against stress, a reduction to your weight and blood pressure numbers.
In 2007, I was fortunate enough to have come across information on a study by Dr. James Levine. The New York Times credits Dr. Levine as the popular inspiration for the treadmill desk. Dr. Levine developed this concept as part of his work with non-exercise activity thermogenesis, constructing a treadmill desk by placing a bedside hospital tray over a $400 treadmill. You can read more about the journal of research published in 2014.
When my desk was built, 10 years ago, it was a labor of love, at least I saw it that way.  While my husband, and my brother were measuring and sawing wood, I was envisioning the road ahead. They repurposed an old, rarely used treadmill then built a simple desk with plywood and wheels. Their sense of pride was commemorated with the pop of a celebratory beer top for a job well done. I was like a kid on her first 2-wheel bike ride. Liberated with the wind in my face as I was freed from the ball and chain of my desk. Empowered with new clarity, I was all in and the race began. The benefits were immediate.  My shoulder and neck pain disappeared. I was able to walk — albeit at a snail's pace — as much as eight hours a day, enabling me the freedom to complete my computer work and exercise at the same time.
Save the landfills, and find a used exercise equipment store where you can pick up an old small treadmill. Then head over to purchase new or repurpose some plywood. This project might take about three to five hours, but the pay back has the potential to add years to your life and boost your productivity. Exercise is proven to increase your endorphins, and will create a positive buzz, just think of how happy your residents and colleagues will once you make the change.
Comment with your own desk-treadmill ideas or any other unique ideas that help you be more productive or help you complete both work and exercise.
If you want more information on how my desk was built send me an email.
About the Author
 Linda Liberatore is the founder and president of My Landlord Helper—Secure Pay One, a unique virtual assistant solution for DIY real estate investors. She also is a motivational speaker and author of the book "Daily Inspirations to Achieve Your Real Estate Investment Goals." Her second book is due out Spring 2017. She has conducted more than 1,000 workshops focusing on setting goals and implementing technology and best business processes. Her ability to transform a property suffering from reduced collections into a flourishing one is displayed by a 98 percent client retention rate.
Contact her at lindal@securepayone.com.