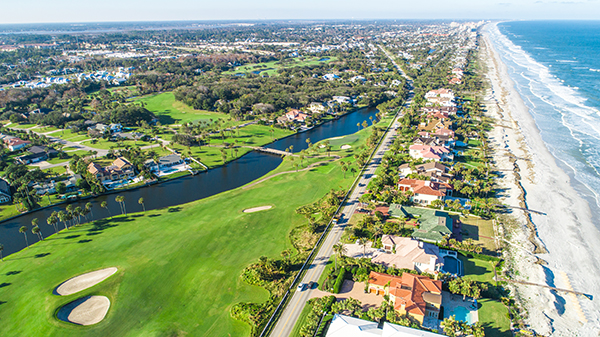 Florida boasts one of the mildest climates in the world. In the US, it is called the Sunny State, and by this nickname, you can already guess about the beautiful weather that prevails here. Residents can enjoy an average of 300 sunny days a year. Even in January and February, Florida offers blue skies and comfortable temperatures. For example, on February 1 of this year, the temperature in Miami was 26 degrees Celsius!
Real estate and houses in Boynton Beach and other Florida cities are among the best investments an investor interested in the American market can make. Residential and commercial units in the Sunshine State offer high rental income and capital gains, and the following advantages can justify such profitability.
Great climate
This is impressive for ex-pats who come from colder climates and are used to seeing the sun for only six months of the year. In addition, Florida offers benefits such as:
crystal clear water;
some of the best beaches in the world;
abundance of natural flora and fauna.
Florida, also known as the Sunshine State, offers a plethora of benefits to those who choose to call it home, especially for expats coming from colder climates. With its moderate year-round temperature and an average of 250 days of sunshine a year, it's no wonder that many people flock to Florida to enjoy the warmth of the sun. This abundance of sunshine is perfect for those who enjoy spending time outdoors, relaxing on the beach, or partaking in water activities. 
Florida is home to some of the best beaches in the world, offering crystal clear water, white sandy beaches, and vibrant marine life. Whether one desires a secluded beach or the festive atmosphere of well-known beaches, Florida has it all. From beaches in Miami to the Gulf of Mexico, each offers its own unique charm and beauty. Expats can take in the stunning scenery while lounging on the beach or participating in water sports such as paddle boarding, surfing, or snorkeling.
Aside from its sandy beaches, Florida is also home to an abundance of natural flora and fauna. Whether it's the Everglades National Park, which is home to a variety of wildlife, or the numerous parks and gardens that showcase the state's native plants, Florida's natural beauty is truly breathtaking. Exploring the state's natural wonders is a must-do for anyone settling in Florida.
In addition to its natural beauty, Florida is a great place to live for its excellent infrastructure, diverse communities, and vibrant culture. Whether you're into sports, arts, or nightlife, Florida has it all. With its bustling cities, cultural institutions, and wide variety of restaurants and cuisines, Florida offers something for everyone.
Developed tourism sector
Foreigners investing in Florida real estate also invest in a strong and growing tourism industry. The National Travel and Tourism Administration has set a target of 100 million visitors a year worldwide. It is estimated that these visitors will spend around US$250 billion during their stay.
Therefore, the sunny state is ideal for investors who want to profit by renting their homes to vacationers for a short time. Florida is a thriving tourist destination, and when you add to the fact that the public service sector is heavily geared towards tourism, local property owners can expect to earn high returns by managing their property overseas.
Transparency and simplicity of the transaction process
Florida is one of the most accessible places in the world to buy real estate. Transactions with residential and commercial units located in the state are highly transparent and efficient. All deadlines and processes are clearly defined, and most contracts have a "time is of the essence" clause, meaning that the parties responsible for the transaction must fulfill their obligations promptly.
The Sunshine State is also one of the few worldwide that offers title insurance. This means that the title of the owner that the buyer receives is undeniable. An outsider will never be able to claim ownership of his property. This distinguishes Florida from many modern European countries, where tracing ownership can be difficult and sometimes almost impossible.
Who can buy and sell real estate in Florida?
Florida is a popular destination for real estate purchases due to its warm climate, beautiful beaches, and attractive business opportunities. The state offers a wide range of residential and commercial properties that meet the needs and budget of different buyers.
One of the most significant advantages of buying real estate in Florida is the absence of restrictions for non-US citizens. This means that individual and legal entities from any country can purchase a property in the state without any limitations. They enjoy the same rights and protections as US citizens and can use the property for personal or commercial purposes.
In addition, the rights of owners in Florida are robustly protected by law. The state has a well-regulated property market, and buyers are assured of clear ownership titles. The government also provides a legal framework that ensures that all transactions are transparent and that property rights are respected. This guarantees that buyers can invest in real estate in Florida with confidence.
Furthermore, the sale of real estate in Florida can only be carried out by the owner or a representative authorized by the owner. This helps to prevent fraudulent transactions and gives buyers peace of mind knowing that they are dealing with the rightful owner of the property. After the sale, all the funds from the transaction can be transferred to the owner's bank account in any country worldwide. This ease of transfer makes it convenient for both local and foreign buyers to acquire and dispose of properties with minimal hassle.
What are the forms of real estate registration?
At Florida.Realestate, they understand that each individual has unique property ownership needs and goals. Creating and registering a legal entity for property ownership can provide various benefits for both personal and business purposes.
One popular option is a limited liability company (LLC), which offers personal asset protection and separates personal and business liability. By registering the property under an LLC, the owner's personal assets are safeguarded from any potential lawsuits or debts associated with the property.
A trust, such as a Florida Land Trust, can provide privacy and anonymity for the property owner. The property is owned by the trust, rather than the individual, giving the owner the ability to transfer ownership easily and discreetly through the trust. Additionally, trusts can provide tax benefits and estate planning advantages.
For those looking for the structure and benefits of a corporation, a Florida Corporation may be the best choice. This option can offer personal asset protection, limited liability, and tax advantages for business owners.
Florida.Realestate's team of experienced professionals provides a full range of services to create and register any legal entity. This includes preparing and filing necessary legal documents, obtaining federal tax identification numbers, and providing ongoing management services.
They understand that navigating the legal process of property ownership can be overwhelming, which is why they strive to make the process as smooth and stress-free as possible. Their team works closely with clients to understand their specific goals and needs, and tailor services accordingly.
Help with buying property in Florida
Finding residential and commercial units in Florida can be time-consuming for buyers unfamiliar with the US real estate market and need more investment experience. To make a profitable investment or find a dream home to move into permanently, check out the information on official Florida.Realestate website. You can find the best deals on the Florida real estate market in this catalog. Specialists working in the company are ready to help buyers select the optimal object that will meet their taste preferences and financial capabilities.
In conclusion, Florida is an excellent place to purchase real estate, whether for residential or commercial purposes. The state offers a range of properties to suit different budgets, and buyers enjoy the same rights and protections as US citizens. The government provides a secure legal framework to facilitate transactions, and the transfer of funds is convenient and hassle-free.