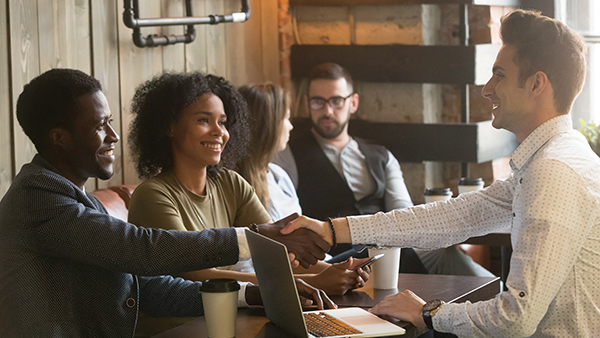 If you're a buyer or seller in need of an agent — or an agent in need of new customers — here's a rundown of what you should know about real estate referral companies.
Whether you're a homeowner looking to sell or a real estate agent building your business, in real estate, referrals are everything. Relying on word of mouth from friends and family can only go so far to make these connections — particularly for new agents — which is where real estate referrals come into play.
Acting as realty matchmakers, real estate referral companies connect real estate agents with home buyers and sellers in exchange for a referral fee. Some companies provide general leads based on zip codes, while others factor in the prospective client's goals for buying and selling.
If you're a buyer or seller in need of an agent — or an agent in need of new customers — here's a rundown of what you should know — and answers to frequently asked questions — about real estate referral companies.
Referral Companies Help Agents Find Leads
Rather than wait for a friend of a friend — of a friend of a friend — to get in touch about a potential real estate transaction, referral companies give agents prospective leads from serious buyers in their area. In exchange for a fee — like the rate paid by athletes to their agents for brokering a deal — companies will share potential customer names and contact information.
What are Referral Fees?
Referral fees are the amount of money a real estate agent pays in exchange for a lead. While some are calculated based on a monthly flat rate that operates much like a subscription service, others are paid only after an agent has helped a customer buy or sell a home. Though the amount can vary, it will usually be a percentage based on the total home value and commission fee.
Top Real Estate Referral Companies
With that background on how real estate referral companies work, the next question is: which company is best for me? Ultimately, for agents looking to build their business through a referral company, the one they choose depends on their budget, skill set, and location.
Here's a look at three major players in today's market to help in making that decision:
Realtor.com
One of the largest real estate search engines on the Internet, Realtor.com offers agents qualified buyers and sellers, as well as gives agents exposure, through a couple of programs.
Connections Plus uses a pricing model based off of zip codes beginning at a monthly rate of $25 or more. In exchange, agents will receive a notice of prospective customers in their area. Unless an agent pays extra, sometimes upwards of $1,000 in expensive and in-demand markets, they will be one of many agents to receive the same leads. Though a more affordable option than others, agents will need to act fast to ensure they are first to connect with a customer.
Realtor.com offers additional options through Advantage Pro for Agents. For this, an agent pays a fee to have their name appear prominently on search engine pages for buyers in their market.
Zillow
Best known as the largest online real estate search engine, Zillow's marketing platform helps agents find potential leads through Zillow Premier Agent program.
By paying a monthly fee calculated by their chosen zip code, members of the Zillow Premier Agent program receive leads through the website. That means an agent pays more in a hot market than they would in one that's cold. After a prospective buyer or seller makes an inquiry on a Zillow, Trulia, or StreetEasy listing, the program verifies the customer is actively in the market and does not have an agent. The program then connects its members with the customer.
In addition to receiving leads delivered to their inbox, member agents receive a specialized website, ad placement options, exposure, reviews, and other benefits that could boost a new agent's profile.
Clever Real Estate
Unlike Realtor.com and Zillow, Clever connects agents with prospective customer leads by offering potential clients help from a full-service real estate agent for a flat-rate listing fee of $3,000 — or 1% if a home sells for more than $350,000.
Rather than require agents to pay a monthly membership fee up front, qualified real estate agents instead pay a referral fee on any houses they help to buy or sell with customers they receive through the network.
With more than 10,000 qualified agents, Clever carefully vets its partner agents, who are chosen based on a set of skills, such as having more than five years of experience, positive reviews from past customers, local market knowledge, or marketing savvy.