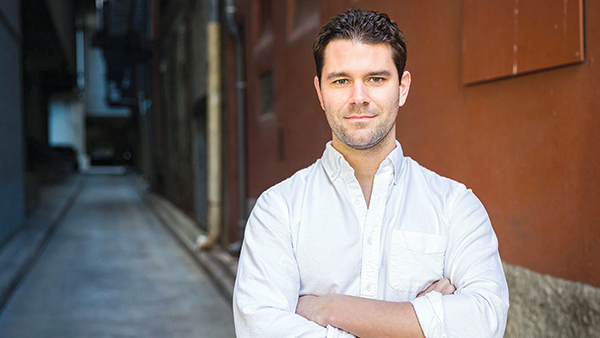 Joe Fairless on sampling life and being his best ever
In his early days of real estate investing, Joe Fairless was living in an unairconditioned apartment, attending Rich Dad Poor Dad seminars and taking improv and standup classes. Each was a formative experience that led to his national success as a real estate investor, businessman, author, and famed podcaster of the Best Real Estate Investing Advice Ever Show.
A Room without a View
After graduating from Texas Tech University in Lubbock, Fairless headed to New York City to begin his career in advertising. It was his perception that the best advertising firms were in New York, and he wanted to work with the best.
He got a job working on Madison Avenue — famously known for the "Mad Men" of the mid-20th century. With his first job came a salary of about $30,000 per year.
"At the time, my paycheck and rent were about the same," Fairless said. That didn't leave him much room for saving. He also had about $18,000 in student loans. "I had to make it happen."
Working tirelessly, Fairless did make it happen. He became the youngest vice president of a New York ad agency.
But as his stature at work rose, he didn't follow suit in his living situation. After one year in Brooklyn's East Flatbush neighborhood, Fairless lived in East Village for nine years. His apartment had two bedrooms — one without windows — one bathroom, a dorm-style fridge, a stove and a sink. He had a rotating cast of Craigslist roommates who joined him.
Because the apartment had no air conditioning and one room was windowless, Fairless worked out a system where he and his roommate would rotate rooms every six months so they could take turns getting a breeze. During one of his stints in the windowless room, Fairless said he got desperate and bought a window unit. He set it on top of a dresser and turned it on. He found cool relief … for about five minutes, before realizing hot exhaust was coming out the sides of the unit. "That was the end of that experiment," he said.
Meanwhile, his friends ribbed him for "living like a college kid." His living situation, they thought, didn't befit an advertising executive.
Fairless, however, had a plan. Living with roommates for so long allowed him to start saving, especially as his salary increased with his promotions. In 2009, he made his first real estate investment: a $76,000 single-family house in Duncanville, Texas, a southern suburb of Dallas.
'Sampling Life Experiences'
Fairless followed that first investment property with others until he owned four single-family homes. It wasn't long before he realized the model wasn't scalable: gains were wiped out by vacancy costs when a renter moved out, and it took a while to save for a down payment for each new property. This realization, in combination with other nudges in his life, set Fairless on a path to learn more about real estate investing.
In his full-time job at the ad agency, Fairless felt "unsettled," as he described it, so he decided to start "sampling life experiences." It was during this time that he attended Rich Dad Poor Dad seminars, which teach strategies to create cashflow outside of a day job and how to fund investments. He talked to other investors and kept notes on their advice. He taught a class on how to buy single-family homes, which led to a breakthrough moment: He sent information from his class to a family friend and a former boss. Both said to let them know if Fairless did "something larger than single-family homes."
"I had customers before I had a product," he said.
Knowing he needed to capitalize on the business opportunity, Fairless decided to focus on investing in apartment buildings. What he hadn't yet decided was whether real estate investing, a side gig at the time, would remain a hobby or become his main focus.
Came and Conquered
The stay-at-home orders of 2020 aren't the first time Fairless has seen his work patterns disrupted. He was in New York when Hurricane Sandy hit in fall 2012, causing record storm surges in the Northeast and resulting in an estimated $70.2 million in damages. The mechanical room was flooded at the ad agency, so he worked from home while it was being fixed.
He liked working on his own terms and was ready to make the leap to becoming his own boss.
In November, shortly before Thanksgiving, Fairless emailed his family and informed them: "I came, I conquered, and now I don't care at all" about his advertising career. He was ready to give his notice in January.
The timeline was unexpectedly moved up: In December, Fairless was laid off after the agency lost a big client, which came with one month of severance pay. He had about $50,000 from a cash-out refinance, and it was go-time. Once again, he had to "make it happen."
A Lot of Lessons
To get started on his new venture, Fairless went to meetups and networking events, seeking introductions. He reached out to authors of books about investing in apartment buildings, who also made introductions for him.
Around April 2013, Fairless had come across the deal that would kickstart his business: an apartment building in Cincinnati.
"I learned a lot of lessons, tactically speaking, from that deal," he said.
The deal opened his eyes to risks that few new investors — and perhaps even seasoned investors — would see coming. The building owner told Fairless it was at 98 percent occupancy, but he could get it to 100 percent occupancy before the deal closed.
"I said sure, do that," Fairless said.
Fairless later found out how the owner accomplished it: by recruiting people who weren't qualified from a local homeless shelter and placing them in units that weren't rent-ready. He asked residents to pay one and a half months of rent upfront in return for two months free — after the deal closed.
"Cincinnati was the first and only community that I lost money on," Fairless said. "When I sold the property, I gave investors a 14 percent return out of my own pocket, paid back over a year and a half. As a result, I had investors for life."
Since his entry into multifamily investing, Fairless has learned many lessons that have helped him succeed at Ashcroft Capital, which he runs with business partner Frank Roessler. The business owns nearly $1 billion in assets, which are concentrated in the Dallas-Fort Worth metro area in Texas and Tampa, Orlando, and Jacksonville in Florida. They focus on Class B value-add deals and buildings with 200 or more units. One key risk mitigation strategy in selecting markets is a diverse employment base where no one industry makes up more than 25 percent of jobs.
At Ashcroft Capital, Fairless implements one important lesson: to focus on his strengths. In the beginning, he was doing everything on his own. Now, he said, he and Roessler have complementary skill sets.
"We know what we're good at and what we're average at," he said. "If you're average, you won't perform well."
Fairless spends most of his time on his strength of investor relations. As a bonus, "building investor relationships is what I enjoy the most," he said.
Combining Passion with Purpose
In the beginning, Fairless integrated a passion project into his business that has paid dividends in creating connections he's been able to foster. Around the time he started his business in 2013, Fairless began working with a business and life coach, who mentioned that podcasting was getting popular and suggested he try it.
He decided to give it a shot. In his days of "sampling life experiences," Fairless had taken both improv and standup comedy classes.
"I had no intention of being a standup comedian," he said. "I just wanted to be better at public speaking, and that did help me."
He performed standup at Gotham Comedy Club in New York: "It was the longest five to seven minutes I've ever experienced," he joked.
With that background, Fairless first dipped a toe in as he taught himself how to master podcasting, from interviewing guests to editing.
"I didn't know how often I was going to do it. I wanted to find out if it was a good use of my time," he said.
After a few sporadic episodes, Fairless decided to go daily throughout November and December of 2013. He landed an editor and a sponsor who covered the cost of the editing, and The Best Real Estate Investing Advice Ever Show was off to the races.
"There are a lot of benefits to building relationships with people on the show and building traction with listeners," he said.
Fairless also was able to spin content from the podcasts into two books, recapping some of the best advice from the first 200 episodes. He then wrote "Best Ever Apartment Syndication Book," a step-by-step guide.
"I wish I had that book when I started out," Fairless said.
He's now working on a book for passive investors that covers questions they should be asking before signing onto a deal.
Another spinoff from the podcast is BestEverCauses.com, which highlights one philanthropy per month. The charitable endeavor has featured more than 30 causes, all of which Fairless donates to and promotes on air. The website includes a form for people to submit causes for consideration.
"The number-one thing that impresses me most is people who rise above challenging circumstances," he said.