The Federal Reserve has published a new report on real estate investment in rental housing about companies and investors buying single family homes for rentals.
Much of what is in the Federal Reserve's report has been covered by Personal Real Estate Investor Magazine, but it is interesting to note in the charts they provide show how the buying of rentals at corporate companies has gone from less than 1% in 2004 to more than 6% today now.
The report also details which markets in the country have felt the biggest impact of this real estate investment in trend in single family homes and provides a chart on that as well.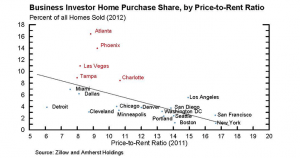 For investors, the report says, "On the positive side, these investors are deploying capital to purchase and renovate houses that otherwise might have remained vacant for a long time. Tight financing conditions in the primary mortgage market have likely limited the ability of some potential owner-occupiers to purchase and renovate these properties themselves. Another advantage of this activity is that institutional investors are increasing the supply of single-family rental houses at a time when the demand for such housing appears to be high.
"Despite these benefits, the large-scale rental of single family homes is still a new business with a short track record and, thus, carries significant risks. Investors may end up having overestimated the demand for rentals in a particular neighborhood, or may have invested more in improving, leasing, and maintain houses than they recoup through rental payments. Neighborhoods may suffer if a particular investor has difficulties managing large numbers of rental properties or ceases operating and cannot find a new investor to buy out their positions. In this case, a large number of homes that are left vacant or put up for sale on the owner-occupied market could cause a drop in house prices in the area and thus negatively impact other homeowners.
"Given the relatively small share of homes held by business investors and low investor leverage, right now there appears
to be fairly little risk to overall financial stability. However, financial stability concerns may become more significant should debt financing becomes more prevalent or if the share of homes owned by investors in certain markets rises significantly further. Greater use of leverage makes financial distress of the investors more likely, which may force them to liquidate their asset holdings at suboptimal values. To the extent that public markets develop for bonds backed by the underlying income or assets of investor portfolios, there is greater risk of the development of shadow banking activities based on these securities or derivatives referencing them. It will be important to monitor developments in these markets for signs of the potential to destabilize financial markets." Read the full report here.