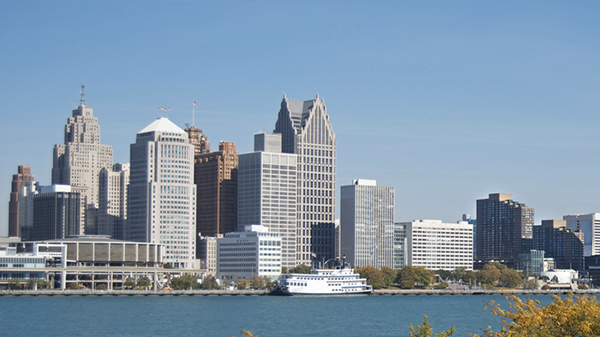 Thanks to a combination of short supply, rising demand, and buyer urgency created by rising interest rates, the metro Detroit real estate market could see a serious spike in home prices in the latter half of 2018.
Thanks to relatively low unemployment, rising interest rates, a dearth of new construction, a large population of new metro residents, and tight housing inventory, Detroit, Michigan's housing market could be heading into a heated territory. According to reports from the U.S. Bureau of Labor Statistics, the area's unemployment is hovering around five percent, an improvement over past years and an indicator that the local economy is growing – along with the local population.
Frank Tarala, president of the Realcomp Board of Governors, observed, "Buying options are strained because home construction has been down the past five years as the economy recovered." Now that the metro area economy is stabilized and expanding, new residents coming into the area are driving up competition for existing inventory while what new construction there is tends "to be more upscale…than entry-level," Tarala added. This creates a particular shortage for first-time homebuyers and those seeking entry-level housing, which can, in turn, create an opportunity for real estate investors in a position to create this type of inventory or who prefer to offer rental housing at this level.
Investor Insight: You don't have to buy in metro Detroit to benefit from these rising prices. Commuter suburbs are experiencing growth as well, creating opportunities for fix-and-flippers, landlords, and turnkey owners.
This inventory issue and the discrepancy between available homes and desired types of housing become even more pronounced in light of the income levels of in-bound Detroit residents. According to research from BuildZoom, some areas of the Rust Belt, including Detroit, are experiencing population growth without correlating income growth. Essentially, incoming salaries are less than out-bound salaries. BuildZoom credits this trend to younger professionals' strong desire to live and work in coastal areas of the country, including New York, Los Angeles, Washington, and Seattle. Failing this, the analysts explain, they opt for affordable metros like Atlanta and Dallas. This leaves the Rust Belt with a growing population, but not necessarily one that has a lot of choices about where to live and work, the study concluded.
"There has been much talk about the financial barriers Millennials face when it comes to homeownership, [but] this age group, along with the up-and-coming Generation Z population, are willing to bear the high housing costs of coastal metros in favor of better career opportunities," the researchers concluded.