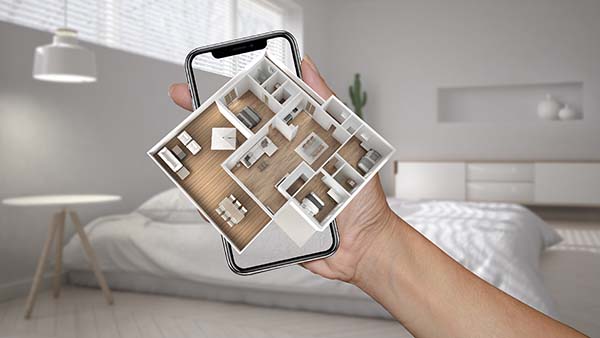 Which platform is right for your business?
3D tour technology allows providers of single-family rental homes the opportunity for future residents to view their homes via immersive, three-dimensional tours that make the viewer feel like they're right there, inside the property.
But two of the most popular options, Matterport and Zillow 3D, are very different platforms with different approaches to creating these tours. Depending on your needs, one may be better than the other for you. So, let's look at what makes each platform unique, and which one best meets your needs.
What Is Matterport?
Matterport provides immersive, realistic 3D tours that are hard to top. In these truly 3D experiences, viewers are able to walk from room to room with ease and zoom in for a detailed inspection of the space. The experience they provide is ideal for investors who want to optimize their resources to perform everything from virtual due diligence to make ready inspections at the property turn.
Pros of Matterport: Single-family rental (SFR) investors who have investments throughout the country need a reliable way to evaluate and manage properties from a distance. Matterport offers that solution with ultra-realistic 3D tours.
3D Dollhouse View: Matterport allows viewers to see a 3D view of a house from the outside looking in, as if it were a dollhouse. Viewers can virtually move to different floors with ease. Investors can visualize renovation needs from anywhere.
Accurate Dimensions: When investors conduct virtual walk-throughs before making purchase decisions, the ability to accurately estimate renovation and repair costs is essential. Matterport's dimensions are accurate within 1%, resulting in better scopes and estimates and less material waste.
High Dynamic Range (HDR) Photos: Investors can better determine repair needs and other specifics about a property with the highly detailed views available in HDR photos.
Floor Plans: Unlike Zillow 3D, Matterport offers 2D black-and-white floor plans of the property as well. Investors can extract the floor plans with near-perfect dimension accuracy.
Easy to Share: 3D tours shouldn't be difficult to share or embed. Matterport's tours are easy to embed onto a website or share via a link.
Marketing: Matterport 3D tours can be posted on most real estate sites to engage visitors and encourage return visits to the site. Recently, Matterport 3D tours became available to view on Zillow Rentals making Matterport truly the best of both worlds: high-quality, immersive experience coupled with Zillow's unmatched exposure.
Mattertags: Viewers can make notes on a tour with Mattertags. These tags allow viewers to jot down renovation and repair needs for themselves or their contractors. Or the tags can be used to highlight special rental features.
What Is Zillow 3D?
Zillow 3D is a Zillow-native panoramic digital walking tour.
Pros of Zillow 3D: Zillow 3D has its place in the market. It's the right fit for the right customer. Here, we'll highlight the pros and cons to see if Zillow 3D is the right choice for your business.
Price: You can't beat free! Zillow 3D is free with the platform, making it a clear choice for budget-minded users.
Featured Listing: When a rental listing has Zillow 3D, Zillow filters the listing as having a digital tour. This could boost the listing's views, which is a nice bonus.
Marketing: Zillow adds a special icon on the Zillow map highlighting the tour.
Speed: Zillow 3D has a quick setup. It takes less than 25 minutes to create and 15 minutes to process a Zillow 3D tour, unlike a Matterport 3D tour, which can take up to 45 minutes to develop and up to 12 hours to process.
Final Decision
Matterport and Zillow 3D are for different users. Matterport offers the robust, detailed 3D experience needed by investors. You get an immersive tour that provides the information you need to make investment decisions to scope and budget for repairs and renovations. This enables you to estimate the profitability of the investment much earlier in the process. Zillow 3D is ideal for owners or operators who prioritize only marketing. If your goal is increased listing visibility, this is the platform to choose. Weigh your needs and priorities to make your own final decision.
---
Kori Covrigaru is the Co-Founder and CEO of PlanOmatic, the biggest and fastest provider of Property Insights and marketing services for the single-family rental industry nationwide. With a national network of hundreds of contractors and 40 employees, Covrigaru has met the moment with the unique value proposition PlanOmatic offers through technology combined with property insights to support their clients' goals.
---