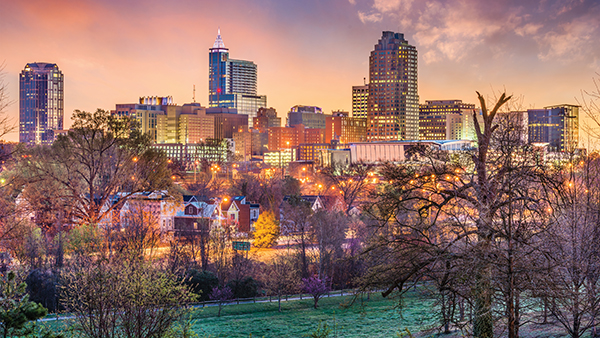 Signals show rental prices have plenty of room to appreciate while maintaining affordability
RentRange, an industry leader in market data and analytics for the single-family rental (SFR) housing industry, found in its recent data report that the Houston-Woodlands-Sugarland TX Metropolitan Statistical Area (Greater Houston MSA) is a stable, consistently appreciating market with room to grow.
Job Growth
According to the Bureau of Labor Statistics (BLS) Job Report through December 2019, the Greater Houston Metropolitan Statistical Area (Houston MSA) is one of the largest drivers of job growth in the US. 
The Greater Houston MSA ranked 4th in annual job percentage gains with 2.8 percent growth between 2017 and 2018. Over the last five years, Houston ranks 13th amongst the large metro areas of over 750,000 population, showing job growth of seven percent.
The Greater Houston MSA has added 88,000 non-farm positions in the last year. The annual percentage of job increases is slightly under nearby MSAs of Austin (3.5 percent), Dallas (3.4 percent) and San Antonio (3.2 percent). However, Houston outperformed the state of Texas's 2.7 percent increase and the national average 1.4 percent gain. In the last five years, the overall increase in non-farm payroll has increased 7 percent adding 210,600 jobs, and accounts for 18 percent of all job growth in the state.
The top job categories in the Greater Houston MSA from December 2018 to December 2019 was led by the Professional and Business Services sector (26,300 jobs); followed by Mining, Logging and Construction (13,600 jobs); Trade, Transportation and Utilities (10,400 jobs); and Education and Health Services (10,300 jobs).
Greater Houston MSA Largest Job Category Growth

The job market in Houston is well-balanced across sectors. The metro is known for oil and gas employers, but IT, aerospace, healthcare, and manufacturing are all major industries that keep the economy running. Houston's Texas Medical Center is the largest medical center in the world and covers over 21 million square feet. The area is also home to NASA Johnson Space Center and many aerospace contracting firms' headquarters.
The variety of professional industries in the Greater Houston MSA provides a median household income of $65,400 according to the 2018 ACS data, ranking the metro 35th in the country. This is higher than the statewide median household income of $60,629, and just over the national median income of $63,688. Metro area incomes have enjoyed a 4 percent increase from 2017 ($62,922) and showed a 9.6 percent increase over 2015 household income of $59,649.
According to the BLS unemployment report, the unemployment rate for the Greater Houston MSA comes in at 3.6 percent as of December 2019. That is just above the national average of 3.5 percent, and down considerably from three years ago of 5.3 percent.
*All information stated in the Job Growth section is from the BLS Job Report.
Population
According to the 2018 Census ACS data, the Greater Houston MSA hosts nearly 7 million residents. The metro added nearly 105,000 residents between 2017 and 2018, a 1.5 percent rise.
Houston ranked third in the nation in overall population growth, third in net natural increase, and fourth in international migration in 2018.
Between 2010 and 2018, Houston's 17.1 percent population growth of over 1 million incoming residents ranks as the 29th fastest growing metro area by percentage growth.   
According to the latest census data, in 2019 Houston & Dallas-Fort Worth were the top two markets for single-family new construction in the country as builders attempt to keep up supply for the incoming demand.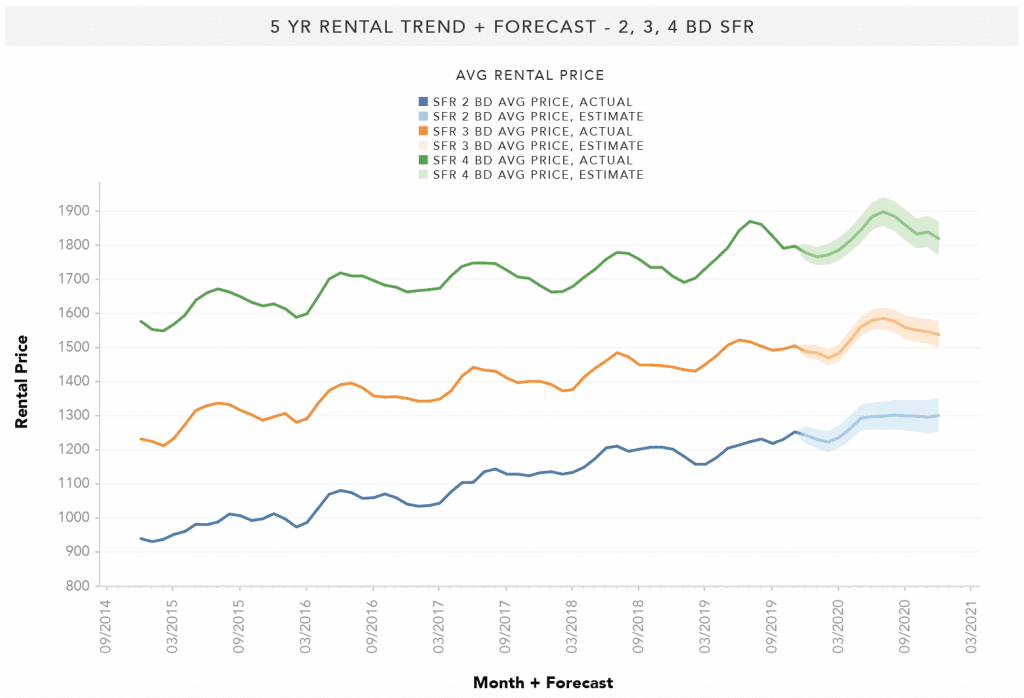 Rent and Home Price Metrics
In January 2020 the median home value in the Greater Houston MSA was $235,000, up 3.7 percent year-over-year. Home price appreciation has been steady over the last five years, overall averaging of 4.8 percent growth or 24 percent appreciation in the five-year period.
Thanks to consistent and moderated growth of 4.2 percent during the early 2000s, Houston home values held up very well during the housing recession and experienced only a five percent decrease from 2008 highs and recovered the losses by 2012. The 10-year overall home price appreciation is a strong 52 percent.
Investors should note that Texas has some of the highest property taxes in the nation. Harris County is currently over two percent, versus the national average of 1.08 percent. This should be factored into your expense calculations when evaluating property cashflow potential.
Rental Rates 
As of January 2020, the average three-bedroom, single-family rental home in the Greater Houston MSA is $1,545/mo. Dallas rents in the same class are $110 more at $1,655/mo.
The metro area one-year change for a three-bedroom detached SFR is up only 1 percent, a $15 annual increase, although January is typically a slow month. In comparison, Dallas-Ft Worth is up 5.5 percent and Austin is up 3.4 percent for the last year.
Over five years, SFR rentals in Houston have increased nearly 12 percent, Dallas has increased 26 percent and Austin over 17 percent. The softness in the Houston SFR rental market can be attributed to affordable home values and low interest rates, turning a portion of renters into buyers.
Overall the Greater Houston market is fairly uniform for such a large area, with three-bedroom SFR rents ranging between $1,400-$1,700. The Woodlands, League City and Galveston are higher than average ranging from $1,800-$2,000.  Central Houston, including Uptown, Bellaire and west along the I-10 through the Energy Corridor out to Katy, command the highest rental prices in the metro from $1,900-$2,600.
The overall rent-to-income ratio of the Greater Houston MSA comes in at 28.3 percent, a few points lower than the national average of over 32 percent. However, areas near downtown within the I-610 loop can have elevated rent to income ratios between 40 percent-60 percent.
The Houston market has relatively low five-year rental increases of only 10-20 percent. That, combined with a rapidly growing, well-paying job market, is a positive signal to investors that rental prices have plenty of room to appreciate further while maintaining affordability.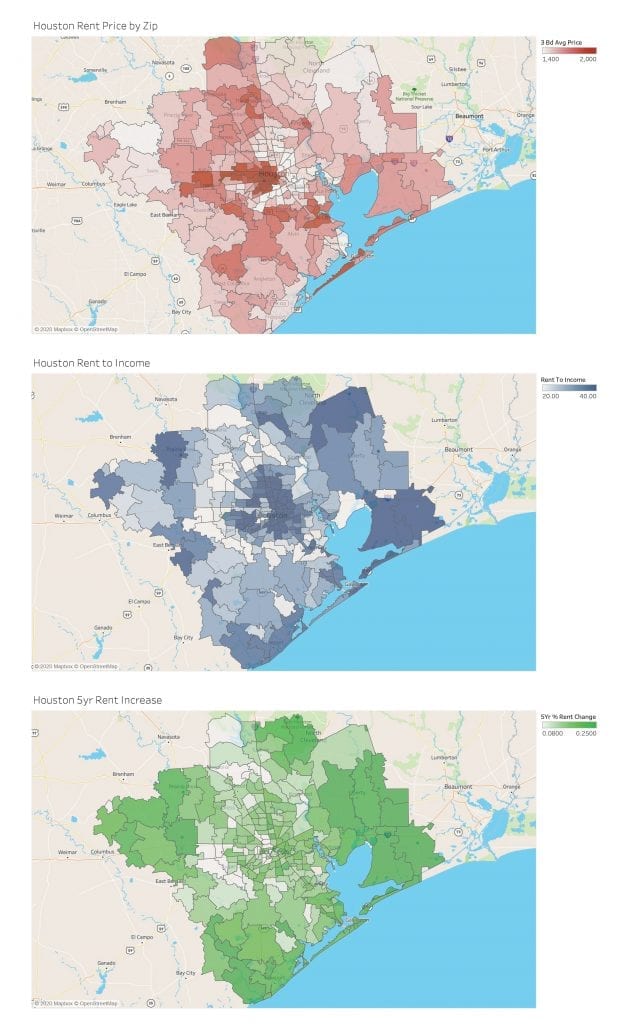 Saturation, Vacancy & Yields
The Greater Houston MSA rental saturation for single-family properties (renter-occupied properties versus total) comes in at a relatively low 16.89 percent. Dallas and Austin are higher at 17.8 percent and 18 percent respectively. This indicates only a small portion of SFR housing is provided for renters, so there is still plenty of room for investors.
However, demand is soft for SFR homes with a higher than average 9.5 percent vacancy rate and a higher than average SFR rental listing duration of 33 days. This metric also points to renters becoming buyers due to the low interest rates and nationally low home prices.
Gross rental yields (excluding expenses) for three-bedroom SFR properties in the Greater Houston MSA is at 9.8 percent, solidly above the national average of at 8.2 percent. Northeast Houston, Galena Park, Pasadena and Southeast Houston have great yield potential between 12-14 percent.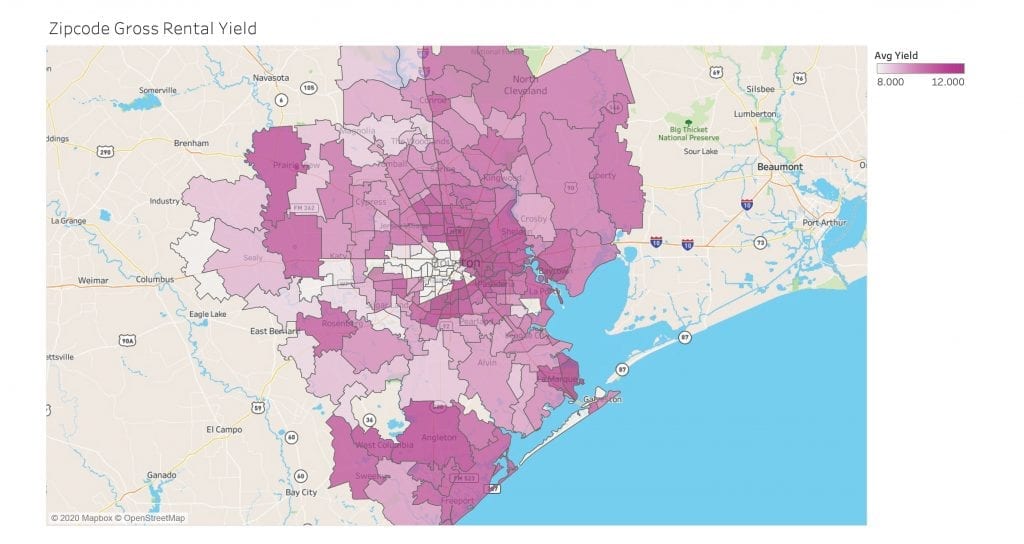 Conclusions
Houston is a rapidly growing metropolitan area, especially for its scale. It has proven its resilience to economic downturns and provides steady appreciation for a long-term buy-and-hold real estate investment strategy. The local economy will continue to expand, especially as businesses continue to move into the area. More jobs will increase the city's diverse job market and low unemployment for the foreseeable future, which will draw more residents.
That steady flow of incoming residents will support a strong demand for real estate for people looking to rent and buy. Home prices are very affordable with favorable demand and asset appreciation. There is also a higher probability of above average home value appreciation in areas with high yields.