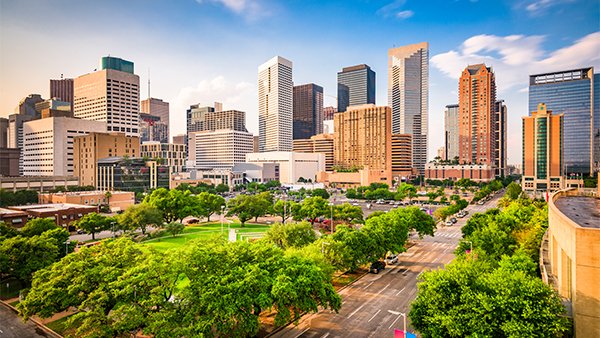 Housing market momentum in 2021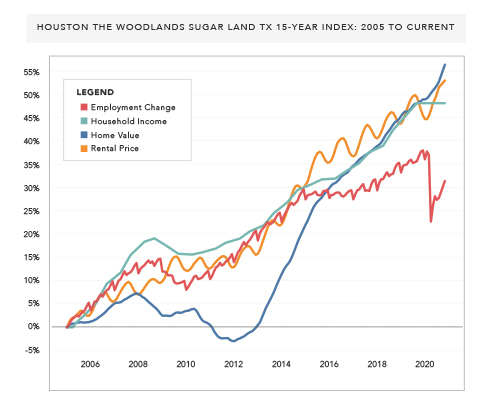 Houston's housing market has very strong momentum with limited downside risks in the near term. Intense buyer demand paired with low rates and low inventory will drive prices higher through 2021. Single-family rental prices are set to increase in the beginning of the year but will taper off when eviction moratoriums eventually end.
Owners have a record amount of equity built up, and now a myriad of government programs exist to protect borrowers and mitigate another foreclosure crisis. Once forbearance programs end, we expect home prices to flatten or moderately drop with the increase in inventory. The largest concern for home prices may be one to two years away when the FED begins to raise interest rates again. Even if there is a moderate pullback in home prices over the next few years, we don't foresee a large crash occurring.
---
HOME PRICE METRICS
In December 2020, the Houston Association of Realtors reported prices of single-family homes hit new record highs. The median price rose 8.7 percent to $273,443 while the average price rose 11.4 percent to $347,164.
Median price for condos and townhomes went down 2.7 percent YoY, illustrating the market preference for single-family homes.
Single-family rental (SFR) owners in Houston have realized a steady five-year increase of 23 percent and a 10-year price appreciation of over 56 percent. In the 15-year index chart, home prices have accelerated much faster than rent, incomes and employment since 2012. However, prices have only recently caught up to parity with income and rent growth, and just starting to overshoot slightly in the last year. One concern here is weak employment growth over the last five years, and the recovery in jobs has only recently surpassed levels back in 2014.
Houston MSA Home Price Forecast through 2021: +5 percent to +7 percent
Houston home prices will continue to rise in 2021. Historically low mortgage interest rates will continue to motivate homebuyers and investors to compete for limited inventory. Rates are expected to remain low until 2022, but signs of inflation are beginning to show, which could cause the FED to raise rates earlier than expected.
Currently, the upside demand factors are driving all the market momentum and many of the downside risks are possible.
SFR Price Upside Factors:
Low mortgage interest rates will continue to drive high demand for homeownership and investing.
New listing inventory has been steadily declining, and total active inventory has dropped by nearly 35 percent vs. December 2019. Houston averages about 3.5 months-of-inventory over the past 10 years. In December, MOI was down to its lowest level in history with only a 1.9 months' supply given the current sales velocity.
COVID-19 has been the catalyst to change consumer preferences towards single-family homes desiring additional space and privacy. Concurrent with low inventory constraints, demand for single-family homes will fuel above average price appreciation through 2021.
Houston is still catching up with rebuilding damaged properties from hurricane Harvey, as well as rapidly adding inventory to accommodate new residents coming to the area. Builders in the Houston market are working hard to bring new inventory to the market, making Houston number one for both total SFR permits and total building permits in the last 12 months.
Influx of population from business relocations and people who want to move to a less expensive city.
President Joe Biden has proposed a $15,000 first-time homebuyer tax credit for down payment assistance. If passed, this could introduce a new wave of demand pressure and drive prices higher.
Homeowners have a record amount of housing equity, better loan structures, and an alphabet soup of government-backed foreclosure avoidance programs. Sellers exiting forbearance programs may be able to sell at market-rate prices instead of the negative appreciation spiral due to foreclosures seen in 2008.
SFR Price Downside Risks:
The November unemployment rate of 8.9 percent is among the highest vs. other major metros. This could signal a large number of distressed owners hidden by forbearance. HUD's report on December 1 shows FHA delinquencies around 22.4 percent (47,816) with serious delinquencies at 15.5 percent (33,140) for the Houston market.
The lagging job recovery is in the bottom quartile vs. other major MSAs.
Inventory could turn into a glut over the next few months as people come out of forbearance programs. The inventory would be welcome to stabilize the market but may not be enough to cause a decrease in prices.
Severe weather risk is a factor to prepare for, and early forecasts indicate higher than average number of storms in the gulf for the 2021 hurricane season.
Rising inflation could cause the FED to raise mortgage interest rates sooner than expected which would significantly reduce demand. When rates go up, prices will come back to earth.
The variability around this forecast is wide and dependent upon data available as of September 2020. The severity and duration of the COVID-19 epidemic, as well as the response of the public and policymakers, continues to change daily.

RENTAL RATES
As of December 2020, the median three-bedroom, SFR home in the Houston MSA is $1,640 a month, an increase of 7.5 percent from last year. SFR rentals in Houston have not encountered the normal seasonal down-cycle due to the lack of SFR rental inventory, eviction moratoriums, and population growth.
SFR affordability is becoming an issue. The market-level rent-to-income ratio is at 31.5 percent, which is just below the national average of 32 percent for metro MSAs. Areas in East Houston and Pasadena show concentrations in lower income areas which have R/I ratios from 40 to 50 percent.
Gross rental yields for single-family properties average 9.8 percent for the metro, with many sub-market areas well above 10 percent.
SFR will continue to have a demand advantage over multifamily structures as families relocate from cramped multifamily structures.
Houston MSA Rent Price Forecast through 2021: 2 percent to +4 percent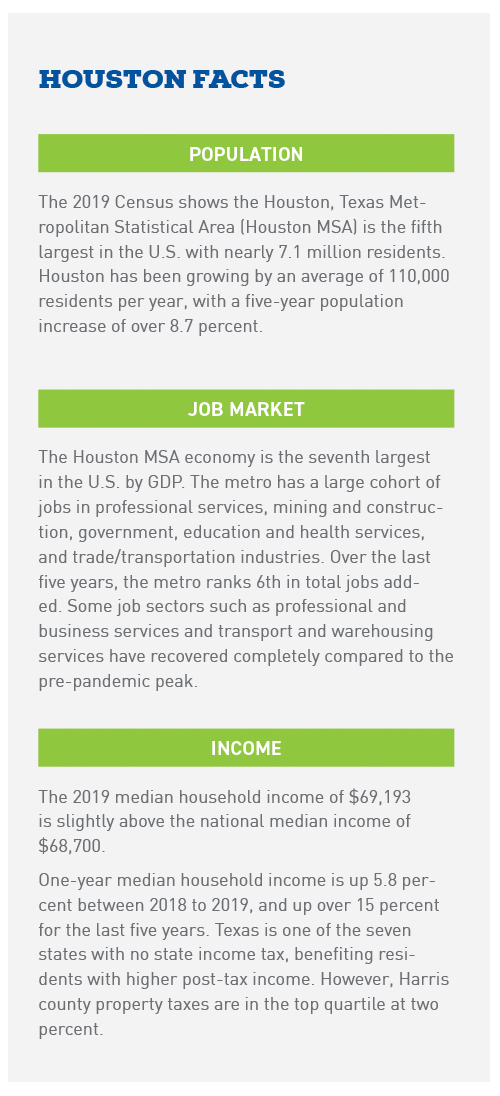 Rental Price Upside Potential:
SFR inventory is also at near lows from the eviction moratorium and lease renewal activity.
Record high occupancy, low turnover providing limited choices for people to price-shop SFR options.
Those exiting forbearance will need a place to rent, increasing demand.
Inward population migration from relocations, families are likely to rent an SFR before buying.
Just hours after his inauguration, President Biden issued an executive order extending eviction protections for the country's 44 million rental households until March 31.
Biden has also proposed a $1.9 trillion stimulus package. If passed, it would extend the eviction moratorium through September, further locking up inventory.
Rental Price Downside Risks:
It is cheaper to buy than rent with 20 percent down (using median purchase and rent prices), and about the same monthly price with 15 percent down. The higher wage earners of the rental market are buying. According to the National Rental Home Council, a survey of tenants that moved out in the last six months showed that ~28 purchased a home.
High unemployment rates in lower-wage industries (renters).
Slow job recovery will limit wage increases and stifle rent increases.
Eviction moratorium ending September… maybe? When the eviction dam breaks, this may lead to high vacancy rates and lower the "qualified" renter pool.
Christmas/winter spike in COVID-19 cases leading to business restrictions and more possible layoffs in lower-income industries.
Bottom line, Houston is a huge market with a growing and diverse economy, further supported by companies relocating their business and staff here. These are good signals of a healthy market and provides many opportunities for successful long-term investments.
Information and statistics from the Bureau of Labor Statistics employment data, Department of Labor report, Census/ACS Tables and RentRange® data sources.
Fred Heigold III is the senior data analyst at Altisource® / RentRange®, an industry leader in market data and analytics for the single-family rental housing industry.