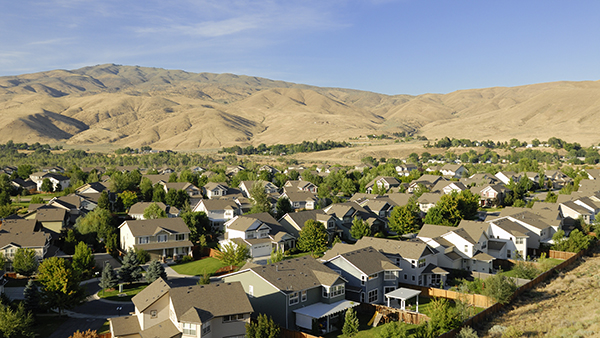 Hunting for treasure in Treasure Valley
If you haven't heard by now, the Boise, ID metro housing market is absolutely blistering hot.
The COVID pandemic has created new and unforeseen demand trends for the Boise-Nampa metropolitan area, also known as Treasure Valley. The rise of remote working amid the pandemic has allowed many folks to relocate away from expensive cities and buy or rent larger properties with additional rooms and quiet spaces. Treasure Valley has become a hotspot for transplants from California, Oregon, and Washington. Many have been attracted to the Boise metro for its comparatively low cost of living and housing, better quality of life, and lower taxes compared to these areas.
In turn, this sudden influx of new people have intensely accelerated demand for homes in Boise, skyrocketing home prices nearly 30 percent in the last year.
Even prior to the pandemic, the 2018-2019 census data shows strong growth in the Boise market. Both population and job growth are triple the national average. These factors have provided excellent appreciation for long-term buy-and-hold real estate investment strategies and great returns for fix and flip investors since the lows in 2012.
Boise is one of the fastest-growing cities in the U.S., and also one of the fastest-growing millennial population. Our research shows the Boise real estate market will remain very competitive in 2021, with strong demand and limited supply boosting home prices higher.
Population
The 2019 Census shows the Boise ID Metropolitan Statistical Area (Boise MSA) is the 79th largest in the U.S. with nearly 750,000 residents.
Job Market
Between 2018 and 2019, the metro gained over 20,000 new residents and ranked #2 for percentage population gains among the largest 100 MSAs. Boise has been growing by an average of 18,000 residents per year, with a five-year population increase of over 13 percent. In 2020 and 2021, the numbers will likely be even higher with pandemic-led migration patterns.
The Boise MSA economy is the 81st largest in the U.S. by GDP, yet 69th in total jobs available. In the last five years, the metro is #1 for percentage job growth at 14.5 percent and has increased the GDP by over 24 percent. Prior to COVID-19, the Boise job market has been accelerating since the last recession, adding an average of 10,000 new jobs per year. Much of this job growth is in high paying industries such as Professional Services and Finance industry.
As of March 2021, the Boise metro is one of only four metros to have fully recovered the total jobs lost compared to the pre-pandemic peak in February 2020.
Some job sectors are still below last year's peak, primarily lagging in Leisure & Hospitality (-11 percent) and Education & Healthcare (-2.3 percent).
Unemployment
After hitting a record low 2.2 percent in September of 2019, the economic challenges from COVID-19 related shutdowns caused the unemployment rate to spike to a high of 12.2 percent in April 2020.
The Boise area economy has bounced back rapidly, dropping the unemployment rate to 4.2 percent by March '21.
Income
The 2019 median household income of $66,466 is slightly below the national median income of $68,700.
One-year median household income is up 8.25 percent between 2018 and 2019, and up over 28 percent in the last five years.
---
Information and statistics from the Bureau of Labor Statistics employment data, Department of Labor report, Census/ACS Tables and RentRange® data sources.
---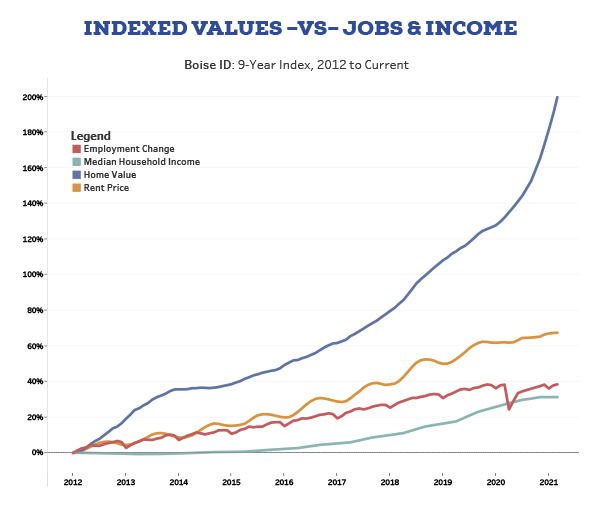 Home Price Metrics
Home prices in Boise have been smashing records in the last year. From March 2020-2021, median single-family home prices rose from $335,000 to $430,000—a 28.5 percent year-over-year increase.
SFR prices in Boise have doubled in the last five-years, and timely buyers who purchased homes around 10 years ago at the post-recession lows have seen the values triple.
The spike in buyer demand is contributing to the incredible appreciation due to the record-low supply of inventory. Currently supply is at the lowest levels on record—near only 1-2 weeks of supply.
Years of under-development are adding to the supply issues and homebuilders are struggling to keep up with increased demand. The National Association of Home Builders indicates lumber prices more than tripled previous all-time high prices—and estimates this adds an additional $24,000 in cost to the average single-family home nationwide.
Additionally, pandemic related supply chain delays have led to shortages of other building materials such as cabinets, nails, glue, appliances and other construction materials causing further delays and shortages in the building process.
Boise MSA Home Price Forecast through 2021: +7% to +10%
The Boise market is predicted to continue appreciating for 2021 and beyond, although moderating from the recent outsized gains. The market momentum will continue due to high population growth and buyer demand, combined with a shortage of homes and low mortgage interest rates will propel home prices higher through 2021.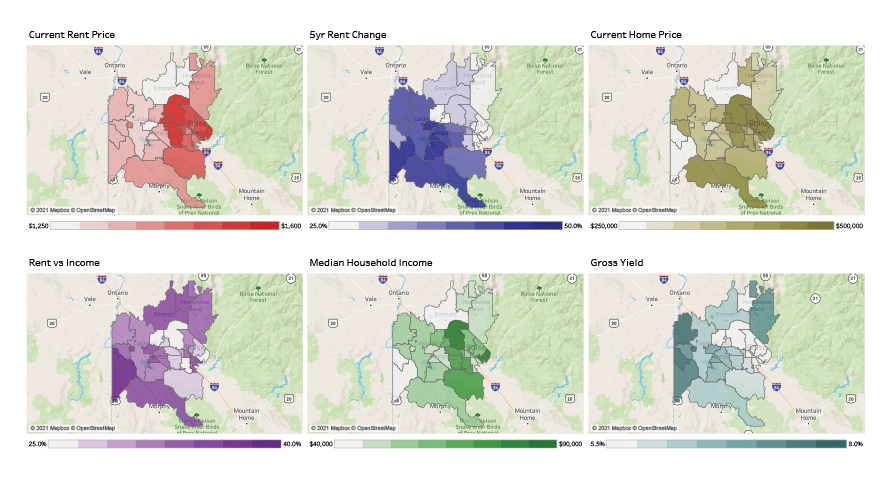 Rental Rates
As of March 2021, the average three-bedroom, single-family rental home in the Boise MSA is $1,540/mo, an increase of nearly 10 percent from last year. Real estate investors in the Boise market have had 5-year SFR rent price appreciation of 44 percent overall, the 6th highest increase among the top 100 metros.
Low supply of rentals and the increase in demand from inward migration have driven rents upward quickly over the past year. Additionally, many families are forced to rent while buying options become available.
Market-wide affordability for tenants remains moderate compared to other metros. Boise's rent-to-income ratio for 3bd SFR homes is 28.5 percent, which is below the national average of 31.2 percent. However, affordability for lower income areas around Boise city, Nampa, and Caldwell are nearing 35 percent R/I.
The gross rental yield average for 3bd single-family properties is a low 5-7 percent for the metro, as rapid price appreciation has outpaced rent increases.
Boise MSA Rent Price Forecast through 2021: +5% to +8%
Bottom Line
The large increase in people moving to Boise and surrounding cities is causing an extreme shortage of homes for sale and for rent. This low supply is leading to bidding wars and sales averaging near $20,000 above list price, making it tough for investors (or any buyer) to find deals. Home prices and rents will continue to escalate due to the supply/demand imbalance through 2021.
Compared to other major metros, Boise is getting expensive for buyers and renters. Real estate investors will have a difficult time finding cash flow opportunities in the Boise market. However, if a deal becomes available, the economics in the metro point to a solid long-term buy and hold rental opportunity.
The biggest potential factors, which could slow or reverse prices in the Boise market, are an increase in mortgage interest rates, large increase in inventory or sudden drop in demand.
Mortgage rates have been slowly increasing, but the FED has committed to keep rates low for the foreseeable future. If interest rates begin to rise then affordability could become a major impediment to buyers.
Given the numerous challenges in the homebuilding space and existing owners sitting on record amounts of equity – it is unlikely to see inventory catch up anytime soon.
This mid-tier market is still attractive to out-of-state newcomers, which will prolong the demand-driven growing pains.
Boise's economic and population growth momentum is one of the brightest in the country, and the local real estate market will continue to benefit from these trends.
---
Fred Heigold III is the senior data analyst at Altisource® / RentRange®, an industry leader in market data and analytics for the single-family rental housing industry.
---