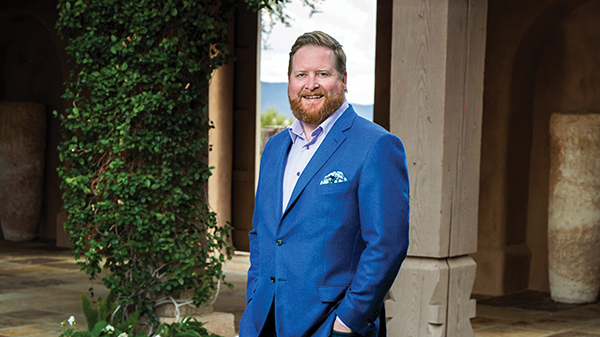 Lucas Haldeman and SmartRent address pain points in the rental industry.
Lucas Haldeman started his career as a software developer at one of the first companies to put a database of apartments online. Today, he leads a cutting-edge PropTech firm, SmartRent, based in Scottsdale, Ariz.
SmartRent is an enterprise home-automation company developing software and hardware that helps owners, property managers, and renters in multifamily communities to better monitor and protect their assets, as well as create operational efficiencies.
"It's kind of funny when you wake up one day and think, my gosh, my whole life has been leading up to this point," he said. "I have spent my entire career embracing technology but also in real estate, and it's sort of a weird combination."
As a young web developer, Lucas Haldeman began his career at AllApartments.com, one of the first companies to put a database of apartment listings online. Listing apartments introduced him to the multifamily industry. "I really fell in love with it," he said.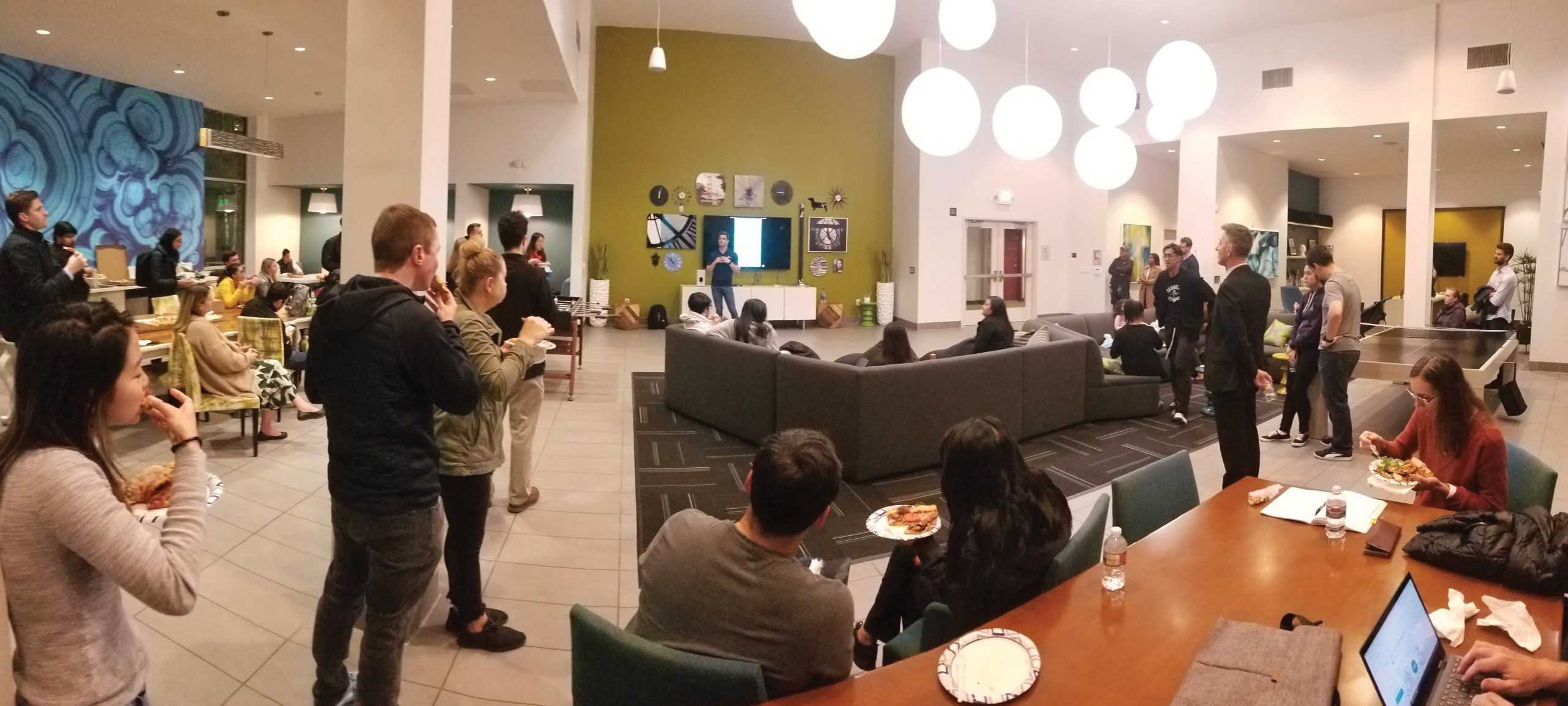 In fact, he left the tech scene to become a real estate investor. He owned apartments and self-storage, and he managed other people's property.
"That's what really gave me the operations experience," he said. "When you're the head of leasing and the head of maintenance because you're the only guy on staff, you certainly get an appreciation for what people are doing every day at apartment communities."
Haldeman moved back into corporate roles as chief information and marketing officer for Beazer Pre-Owned Rental Homes before becoming chief technology and marketing officer at Colony Starwood Homes, which rented single-family homes — 44,000 of them.
Now, as CEO of SmartRent, he ended up with exactly the right mix of skills to bring SmartRent to a market in need of solutions. 
"As the CTO, the operations team looked to me and said, 'We really need these homes to be smart homes,'" he said. 
But at the time, (2014), no solution fit the company's needs. The platforms weren't built for managers of many properties. One particular pain point was showing properties. In a sprawling city with single-family rentals throughout the metro, Haldeman said leasing consultants were at times driving an hour each way — or more — to show a home to potential renters.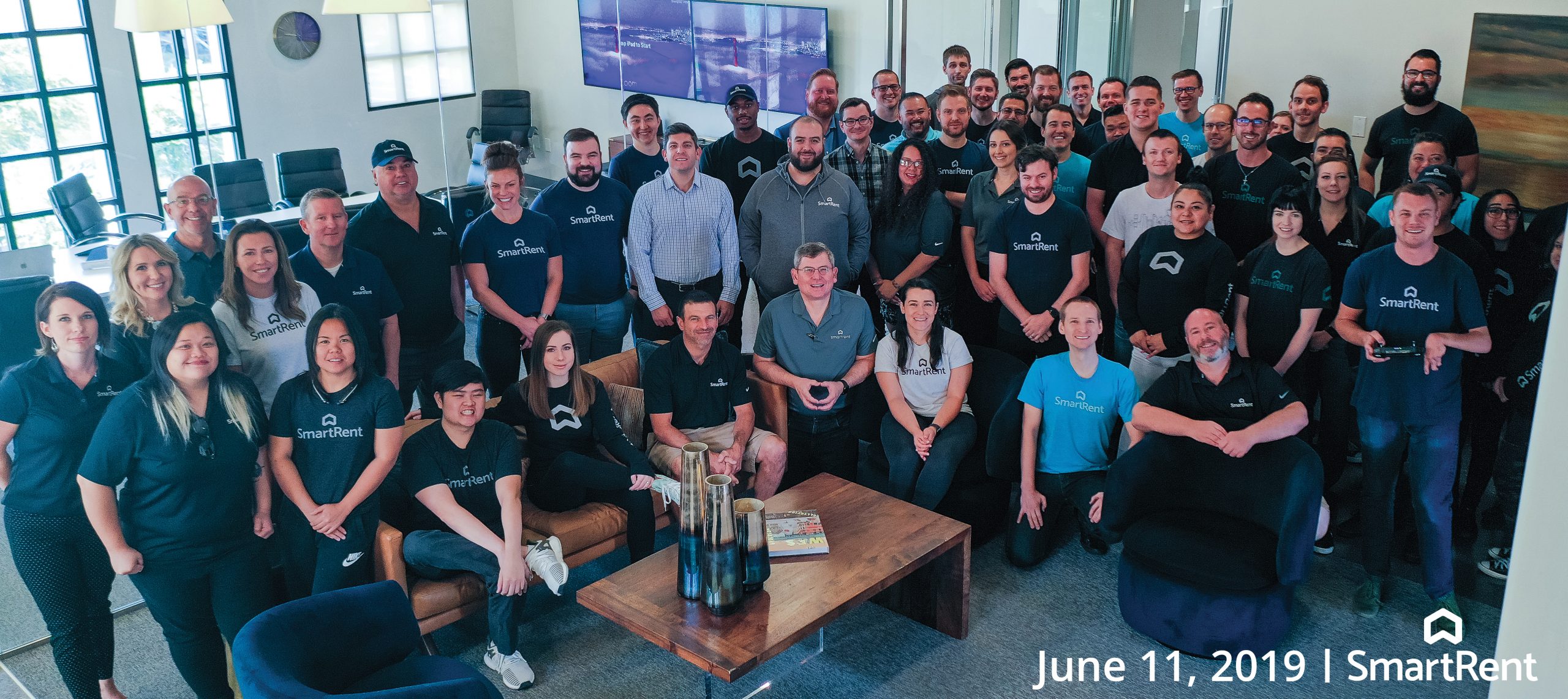 "There was no good company that really understood what we did as operators, that understood our business. They were approaching smart homes from the consumer side. … There was no good enterprise control of smart homes."
Haldeman and his team tried for a few years to test various products that were available or even customize off-the-shelf options.
"We tried different solutions without any luck," he said. "Myself and some of my key team got so frustrated that we said, 'This is our calling. This is our purpose. We have to go build this for the industry.'"
So, in 2016, Haldeman and several colleagues struck out on their own to build a platform specifically for smart rental properties. Starting out with a team that had a long history of working together gave SmartRent a leg up, he said.
"Some of these key guys, we've been working together, solving these problems for seven, eight, nine years now," he said. "That's great in a startup. … You really have a high level of confidence — you know what you're getting. There's a trust level that allows you to innovate quickly."
Tsunami of ROI
Haldeman and his team have built a platform that works for property managers of all stripes — single-family or multifamily, four-plexes to thousands of units, long-term leasing to Airbnb and VRBO rentals. The company is even beginning to sell to some consumers who lived in apartments serviced by SmartRent and who want the same functionality in their homes.
In the past 18 months, the company's penetration has reached 75,000 units. In 2020, Haldeman expects to reach another 200,000 units, and he said the near-term pipeline includes about 500,000 additional units. 
The huge growth comes from "the tsunami of ROI" that SmartRent creates, Haldeman said. It adds together components that create value for property owners, he said:
Controlling access and better protecting assets
Operating more efficiently with fewer staff on hand
Utility cost savings through smart thermostat settings
Monitoring building systems such as water lines and getting warnings when there's a problem, rather than finding out after a leak has caused damage. 
"We have owners reporting back to us that they're decreasing their out-of-pocket spend on water damage by 70 percent," he said.
On top of the cost savings, smart buildings also command higher rent. And, with access controls, SmartRent enables self-tours — prospective residents can view apartments at their convenience and apply online, which Haldeman said "removes friction from the process" and increases leasing velocity.
By combining these smart features into one platform, it's unsurprising that Haldeman says the feedback has been "overwhelmingly positive."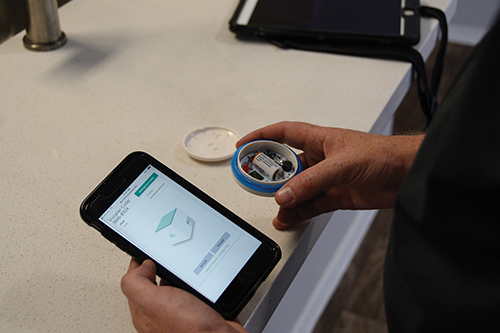 Opening Doors
The company is by no means resting on its laurels. Last fall, SmartRent rolled out a new parking solution allowing property owners to monetize unused parking spaces. Using sensors and QR codes, guests can rent spots when they're available. Residents use a window tag that, when scanned, will note in the system that their space is unavailable — and it can also tell if they are parked in the wrong spot.
Other new features aim to improve security. SmartRent has integrated video intercoms into its platform. 
"It works with a touch screen hub in the unit," Haldeman said. "If you walked up to visit your friend, you can see them on the video. You can click a button on your screen to let them into the building to come visit you."
The system also includes facial recognition, which is "totally voluntary," he said. If activated, residents would only have to look at the camera to gain access and wouldn't need a fob.
Haldeman said he uses the facial recognition at his office.
"It's great. You can never forget your fob because if you're wearing your head, you can get in," he joked.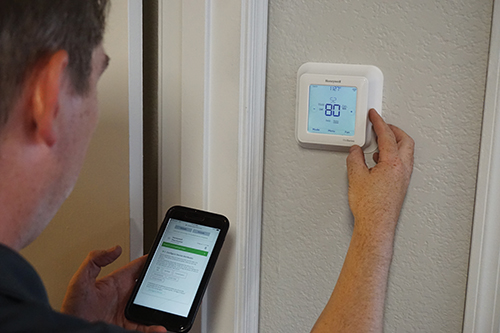 SmartRent also has more deeply integrated common area access control into its system. By making sure all aspects of the database are connected, the system can better keep track of whose credentials should expire when they move out, rescinding access to pools, gyms, or parking.
"It all works in harmony to really understand who and what is at your property," Haldeman said.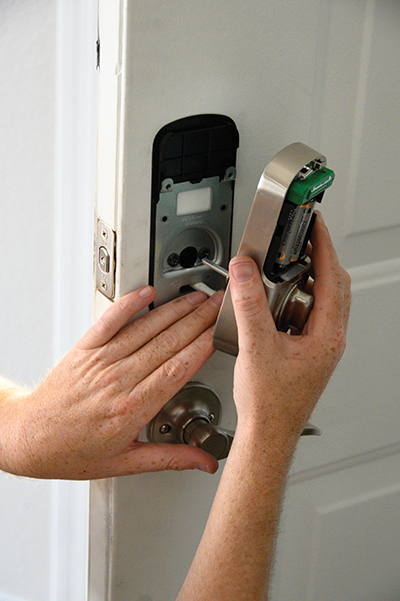 Pilot programs in university housing have allowed SmartRent to enter new a new market sector while challenging the team to integrate with systems already in place, such as using student IDs as entry credentials. Haldeman said his goal is to play nicely with legacy systems rather than try to force institutions to change.
"Since we have a really flexible platform and we're really good at integrating, that opens up doors for us," he said.
A Bad Word
Even as SmartRent rolls out new features, competitors across the country continue to pop up. Haldeman isn't bothered in the least.
"It's flattering that people are following us. I think they see we're getting traction. They understand what's missing, but we're still out ahead of that," he said. "We feel people nipping at our heels, but we're innovators at heart. We're looking to solve more problems for people."
Its multifaceted solutions set SmartRent apart. Without the platform, residents might have to download five or six different apps to access the same smart home features that SmartRent offers. "That just doesn't seem smart to me — that seems crazy," he said.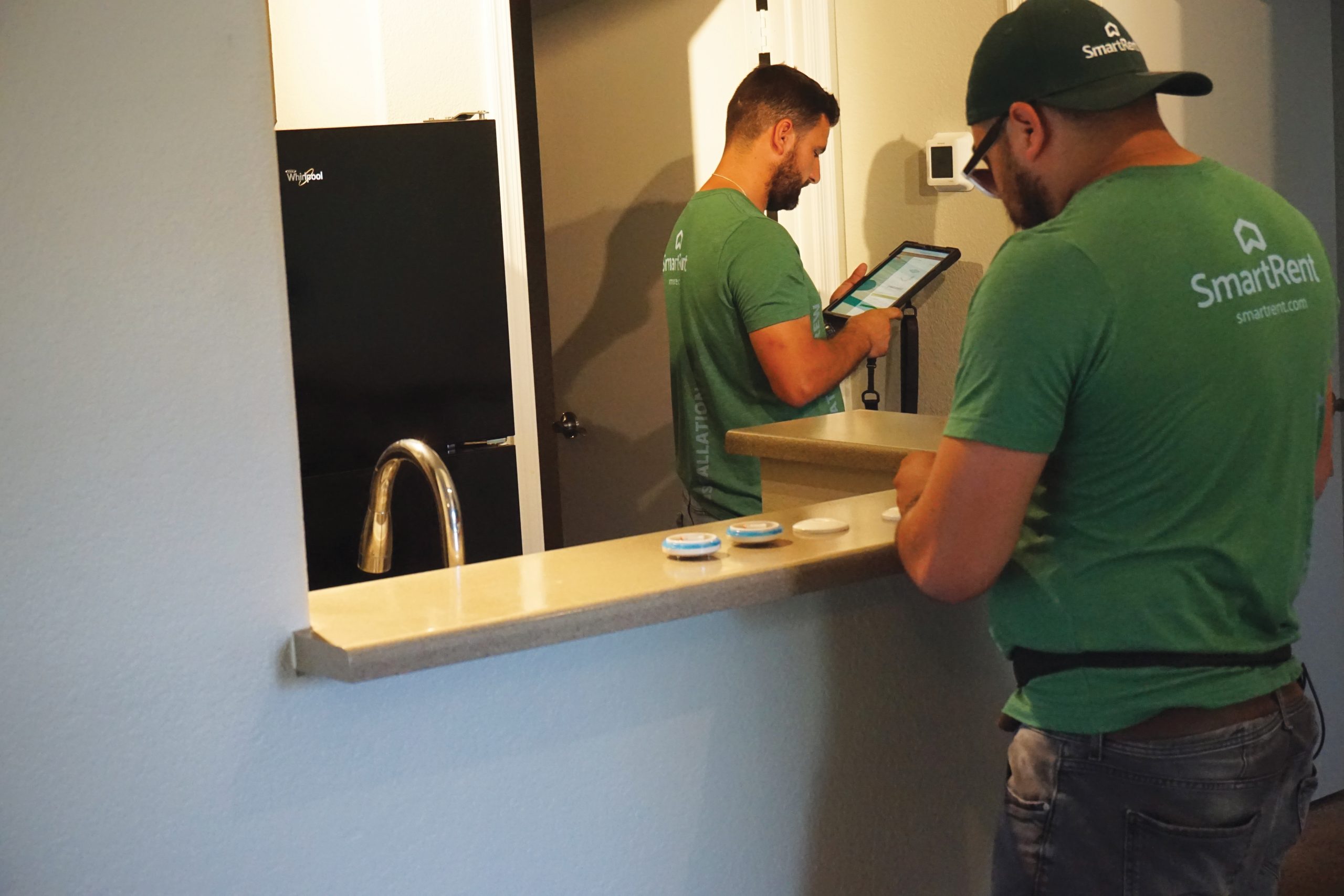 Haldeman keeps an eye on emerging technologies with an aim to partner with or even acquire new tools. One of his driving principles is that tech solutions in the industry should work together. He sees standalone solutions causing "vendor fatigue." 
"Our view is 'proprietary' is a bad word and doesn't help the owners, so everything we do needs to be open and flexible," he said. "You should win customers based on product innovation and customer service and not on locking someone into a proprietary system they can't get out of."
To that end, SmartRent has integrated Amazon's Ring doorbell into its platform. That means residents don't have to visit a separate Ring account — they can see visitors, unlock the door and review their video history all within SmartRent's platform.
Constant Innovation
Although SmartRent keeps its focus on the industry's future, potential disruption to the business model is never far from Haldeman's mind.
"Being someone who loves technology, if you're not thinking about that, you should be," he said. "I think there are a lot of new and innovative things coming. The way we insulate against being made obsolete is by continuing to innovate. We're looking at a lot of interesting things launching—if we weren't embracing them, they could be very big threats to us, but we're going to go the opposite route and embrace and adapt and change and constantly evolve to really create the best platform and the best solution."