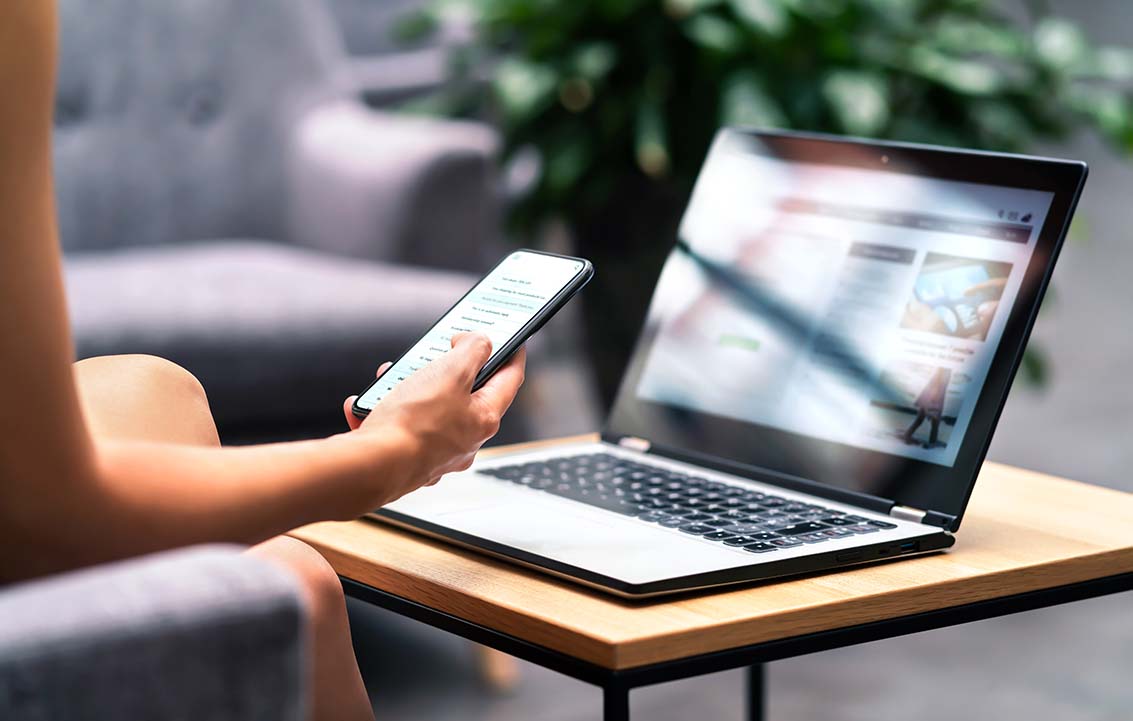 Curate a professional online presence to attract quality tenants.
The best business advice you'll ever get is to market where your audience is.
With 70% of American adults on social media, according to the Pew Research Center, it's a prime channel for advertising many products and services.
To get your rental properties in front of your target audience, take advantage of the often-free or low-cost opportunities that platforms like Facebook, Instagram, YouTube, and TikTok provide.
Create Professional Social Media Profiles
Separate your personal life from your real estate life by creating social media profiles that focus on your business. A professional social media presence fosters trust and presents you as an authority in your field.
For your profile picture, opt for a professional headshot or a more formal portrait of yourself that represents how your tenants can expect to see you. Ensure your contact information is clearly listed and up to date so potential clients can reach out to you directly. Make a plan to respond to social media direct messages—it's the most convenient option for someone who has found you on their favorite platform.
It should go without saying, but resist the urge to react and respond to political posts on social media using this profile. Instead, interact solely as a real estate professional, never posting anything you wouldn't ethically say to a client—or your broker—in person.
Refine Your Message and Build a Following
Use social media for more than simply sharing available properties for rent. As a real estate professional, you have a lot of tips and advice to offer. Doing so is another way to present yourself as a local industry leader who offers quality properties for rent.
What written tone do you use for your posts? Will you follow a branded style? Do you use the word "tenant" or "resident"? Are you renting upscale properties, affordable ones targeted to recent college grads, or family homes? Decide on these matters before you start posting so your message is cohesive and you attract the right audience.
The right strategy helps you build your presence on social media and attract followers, who will hopefully sign on the dotted line to lease a property from you.
Share Meaningful Content for Tenants on Instagram and TikTok
Consider a social media strategy that includes educational posts about real estate blended with listings of apartments and houses for rent. Add posts that engage your followers too. Increasing your likes, comments, and shares are important for growing your page following. For example, you might post a photo of two beautifully decorated living rooms and ask followers to comment on which decor styles they prefer. Don't forget to celebrate your property's awards and successes!
Follow this model on Instagram and Facebook, where 40% and 69% of adult social media users, respectively, spend their time, according to the Pew Research Center study. But don't count out up-and-coming social media platforms like TikTok, where you can engage 21% of adult social media users as well as 62% younger than age 30.
Consider these topic ideas:
Searching for Your First Apartment
Calculating the Amount of Rent You Can Afford
Great Reasons to Live in Your City
How to Save Money on Utilities
Although TikTok videos (which you also can post on Instagram and Facebook) are more work-intensive to produce, they are effective for building a positive brand as a real estate agent, property manager, or landlord. You can also film them with your phone's camera, so there's no need to hire a professional videographer to make these impactful pieces of content.
List Open House Events on Facebook
Take advantage of the free Facebook events functionality to list open houses and invite your followers. Encourage them to share with their friends, family members, and co-workers who may be looking for a new place to live.
In your event listing, add a compelling photo of the property that highlights its biggest selling point, whether that's its spacious living room, a community pool, or a gorgeous exterior with incredible curb appeal. Include a property description that highlights the property's top amenities, including number of bedrooms and bathrooms.
Be sure to share your event on your professional page's timeline and write posts to promote it a few times leading up to its scheduled date.
Use Facebook Marketplace for Residential Rental Properties
Facebook Marketplace is free to list residential rental properties. Although you may not find many tenants on Facebook Marketplace, using it allows you to share properties for rent via your professional profile.
Most Facebook Marketplace users are between 25 and 35 years old, and women are more likely to use the feature than men. For many real estate markets, this age group is a highly targeted audience for residential rentals.
Consider Facebook Marketplace as an ancillary listing place for your properties; it isn't as effective as your local MLS, Zillow, or Trulia, so prioritize posting there before branching out to social media listings.
A word of caution: Be mindful that Facebook Marketplace scams are common. Never provide anyone with a code that was texted to your phone, and never accept money, including security deposits, over Facebook Pay.
Set Up a Social Media Ad Campaign
Every social media platform offers paid advertising, and your ads are displayed to the target audience you choose. Most ads are pay-per-impression or pay-per-click, which means you only spend your marketing budget when your ads get seen or clicked on, often by those who don't already follow your page.
Social media ads work well, particularly if you have a property that is harder to rent, or if you want to make it easier for potential tenants to contact you. Industry average conversion rates for social media ads can vary—hovering around 1% to 3% for most platforms—so be sure to consider your return on investment when reviewing your data at the end of each campaign before starting a new one.
Rely on Digital Marketing Experts
If you're struggling to build your business's social media presence or to create an effective marketing strategy, it might be time to connect with a digital marketing agency to help you achieve your business goals in the real estate industry. Through meaningful data analysis, these experts can continually monitor and adjust your digital marketing campaigns to deliver results.
---
Jenifer Calandra's decade of marketing experience in a range of industries gives her a unique perspective on strategy. A professional writer, Jenifer crafts brand stories in her role at iFocus Marketing to help engagement with a brand's target audience. Learn more at ifocusmarketing.com.