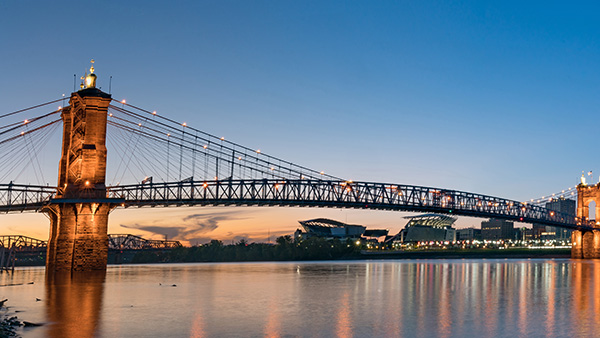 See what the Queen City has to offer
Driving through the mountain, over the Ohio river with houses all around and the skyline of Cincinnati ahead, the view can be quite breathtaking. I remember driving through the city as a kid with my parents and being mesmerized by its beauty. My mom was born in Cincinnati and grew up there. Her family lives in the suburbs and it was always a treat to visit while enjoying the iconic restaurants like Skyline Chili, LaRosas pizza, and Graeter's Ice Cream. This city is special to me with so many amazing memories made here. Fast forward twenty-five years and I am back in this city, with the company I started, rebuilding the neighborhoods that make Cincinnati great! Queen City has so much opportunity to offer a real estate investor.
In the 1990s as crime began to rise, people started to move and the homes of the city began to deteriorate. Houses built as early as 1870's with so much character and history were being neglected and falling apart. In 2018 that started to change. Cincinnati started offering tax incentives to investors to start buying and renovating homes in opportunity zones. The city had some new life as the economy began growing with several Fortune 500 companies, three sports teams and a couple universities. Jobs were being created, more people started moving into the area and the city began to revitalize the downtown. With new restaurants, stores, parks, hotels, a casino and sports tourism, Cincinnati's downtown is now bustling with excitement.
Last year I wrote an article about Cincinnati's real estate market and mentioned reasons like the economy, job growth, house appreciation and cash flow as why Cincinnati should be on your radar to invest in. I want to follow that article with a market update and some key indicators that Cincy is a powder keg for real estate investing.
1. Cash flow.
The Queen City boasts the country's 6th largest annual increase in rent prices.As an investor this is huge. We have all heard investment gurus say at least once the phrase. " Cash flow is King." The truth though is cash flow is King! Cash Flow is used to pay down mortgages on rental properties, provides residual income and provides security as a circuit breaker during economic downturns. Look for markets to invest in that not only cash flows well but has a large enough demand to increase rents on an annual basis.
2. Appreciation.
So many investors get caught up on Appreciation. Every investor has their own methods or models by which they invest. I often tell investors to invest with cash flow in mind and allow Appreciation to be an added bonus. Cincinnati has seen properties appreciate at nearly 20% this year.
According to the Cincinnati Board of Realtors, the median sold price for homes is $235,000. This is up dramatically from last year at this time when the median was $204.375. Spectrum News reports that home sale prices in Cincy are up 18.4% from last year.
3. Real Estate Market conditions.
Cincinnati squeaked by Nashville and Boise as the number one market in the country for the shortest length of time a listing was on the market. The average number of days a home stays on the market in Cincinnati in 2020 was 23 days, this year, it's a mere 9 days, the shortest in the entire country. If you're an investor doing fix and flips, this is a great market. Shorter days on market lowers holding costs and increases your overall ROI.
4. Job Growth.
When trying to identify markets to invest in job growth is a key metric. In 2017, According to the Cincinnati Enquirer, the Queen City was the number one economy in the midwest. In 2021 we continue to see job growth. The CES reported that 3100 jobs were created in October of 2021. Job growth creates demand, demand creates appreciation.With many uncertainties in the world today, there is always the question if a particular market can sustain it's upward growth. What we are witnessing in Cincinnati is an expanding metro area, a burgeoning metroplex when the I-75 corridor is completed over the next 15-20 years. This growth will result in millions of dollars of business expansion and thousands of new homes being built in suburbs between the two large cities. This is the type of future that we have the opportunity to build in Cincinnati.
If you're looking for a new market to invest make sure to look at Cincinnati, OH. If you don't know where to start let Freaky Fast Help you cashin on the opportunities the Queen City has to offer.