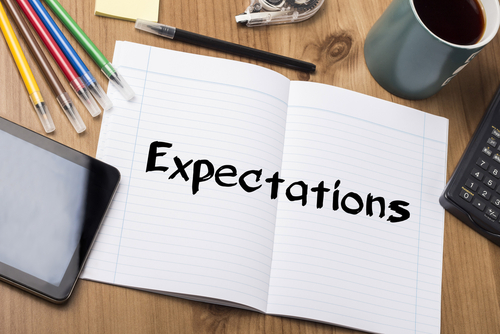 In a blog post, earlier this year, we talked a lot about goals—and specifically, goals for 2017. Veteran and beginning real estate investors alike will set their goals based on what they want to accomplish in a given year. But are your goals realistic?
New and part-time real estate investors in particular have a tendency to aim too high in the beginning.
My caution to you is to make sure you are realistic in your expectations. Because if your goals are too lofty to realistically achieve, you could be setting yourself up for major frustration.
Hopefully, you've set your goals for 2017 already. If so, let's do a gut check to make sure those goals and your expectations are realistic. This way, at the end of this year, you can look back and perhaps find you even have surpassed your expectations and achieved your real estate goals.
As I set my own expectations and ultimately record my own goals, there are some guiding principles I still use with respect to my real estate investing. I'll warn you, the first principle is unorthodox and may strike you as odd or contradictory to what we've been taught or what we see in today's culture. But, you've got to keep in mind as a real estate investor, more is not necessarily better. And like I said, that contradicts everything we see and hear. We live in a culture of excess where some think more is always better. But when you set your part-time real estate investing goals, make sure you're not setting them based on that belief.
Secondly, I will discuss why we can't do it all. There is a famous company out there and we've all probably purchased its products at some point. That company's slogan is "Just Do It." Notice the slogan is not "Just Do It ALL." That's because, quite simply, we can't do it all. However, we can do some things quite well. I encourage you, when you set your expectations for your investing in the coming year, stay committed to doing it but temper your expectations a little.
Then finally, remember time is your most valuable asset.  As a part-time investor, either starting out or while you're still working your full-time career, you know how valuable your time is—especially if you are maintaining your career and investing part-time. You've really got to respect and manage your time properly in order to meet your expectations and attain your goals in 2017.
So now, let's go back and talk about these three key points in more detail.
More Isn't Always Better
I mentioned first, more is not better. Instead, what you, as a part-time real estate investor, should embrace is focusing on less in order to do more. What I mean is, with real estate investing, there are all sorts of exit strategies, such as wholesaling, rehabs, fix-and-flips, or buy-and-holds for long-term cash flow properties. And you know the list goes on and on with all the different types of strategies. The key is you can't focus on all of those strategies or do all of those strategies at once. You just don't have the time to do it all and do it well while trying to meet your expectations.
I'm a full-time investor in Dallas and I've been investing for well over 10 years. I started as a part-time real estate investor with a full-time corporate career. And to this point, when I started out, I bought one rental property. And I decided that is where I was going to put all my time and energy. I learned how to find good properties, how to purchase them, how to rehab them and finally, how to find good tenants and manage the property.  That was plenty for me: one rental property in my first year. And it definitely adheres to the strategy of focusing on less to do more. The next year I bought two properties, and then three the following year, allowing me to grow my portfolio over time.
I realize there are a lot of "shiny objects" out there in the world of real estate investing, and it's easy to want to do them all. You can become distracted and spread yourself too thin. So, set some realistic expectations and goals. Focus on one strategy and set your approach to that strategy and try not to buy 30 rentals your first year. Stick with maybe one or two.
You Just Can't do it All
Secondly, we talked about "Just Do It" and "Just Do It All." and the fact is, you just can't do it all. If you try to do a little of everything you ultimately will end up doing everything just a little. And when you end up doing everything just a little, I doubt you are going to reach your goals for the year. Unfortunately, you may not realize you did everything just a little until you're well into the year. It could be by the time you realize you are going in too many directions or doing too many things, it may be too late for you to know you are not accomplishing any of your goals.
When I became a full-time real estate investor I made this mistake. I decided I was going to do everything and realized I was doing everything just a little. I wholesaled properties my first year. I rehabbed properties. I bought and managed rental properties too. I was doing everything. And lo and behold, I didn't see it that first year—hindsight is always 20/20. I didn't reach my expectations or achieve my goals that year simply because I attempted to do too much. I needed to avoid becoming a jack-of-all-trades and a master-of-none. And I encourage you to take what I learned, the hard way, to heart and build your core competency so you can figure out what you are going to do and focus on doing it well.
This is very consistent with the other principle of focusing on less to do more. I encourage you to resist the temptation of trying to do all the different things you can as a part-time real estate investor. Keep in mind you are a part-time real estate investor, you might not have the time, energy or resources to do everything. You really need to hone and channel your core focus so you can achieve your goals and have reasonable expectations.
Don't Forget, Time is Your Most Valuable Asset
Lastly, as you set your goals based on your expectations for the year, make sure to base them on your available time. Time is your most valuable asset; don't give it away for free. And here's what I mean by that: you are going to be very tempted, as a part-time investor, to do everything. You are going to want to do everything and at this point, you are probably a one-person show. And though your expectations or aspirations might be to ultimately build a full-time business, you're not there yet. You're going to find yourself with many opportunities to try to do everything on your own and that's going to take a lot of time. You already may be spending 40, 50 or 60 hours per week at a full-time job. Your time is incredibly valuable. So you can't afford to give it away for free.
If you determine the value of your time to be $100 per hour, be sure to recognize there might be a lot you may want to do to your investment property. Doing things like painting, putting in new kitchen tile, fixing the roof, etc. Now also keep in mind there is probably someone else who will do these tasks at a much cheaper rate—maybe for $25 per hour. If you were to do those tasks yourself, you are in effect giving away $75 per hour or as I stated earlier, you're giving away your time for free. So be careful and resist the temptation to do it all your own.
I did it this way when I first started. I attempted to do it all on my own until, one day, I walked out of the second rental property I ever owned and looked up to see a truck parked in front of my neighbor's house. It turned out to be the neighbor's truck. Turned out he was a handy man. I took down his name and phone number that was posted on the side of his truck.  Twelve years ago I called his number as I was hauling paint cans, mini blinds and old floor tile out to my car. And to this day, he is still my handy man. At that time, I vowed that I was not going to be giving away my time for free anymore. So, I encourage you to look for assistance. To seek out others to help you build your team.
So, focus on less, do more, avoid doing a little bit of everything and don't give away your time for free, especially if you are a new or part-time investor in 2017. And this realization maybe what launches you into your real estate investing this year. You are what is ultimately holding you back.
You can listen Kevin Guz's full blog by following clicking here.
About Kevin Guz
Kevin Guz is a Dallas, Texas-based residential real estate investor with more than 10 years of investing experience. He owns a HomeVestors (or "We Buy Ugly Houses") franchise as well as the Clear Key companies, which focus on residential real estate wholesaling, rental property management and self-storage leasing. He also is a licensed real estate agent in the state of Texas. He enjoys sharing his ongoing personal experiences, perspectives and learnings from his start as a part-time or "weekend investor" and full-time corporate professional through his ultimate transition to a full-time real estate investor and business owner. You can listen to his podcasts at http://www.blogtalkradio.com/kevinguz.