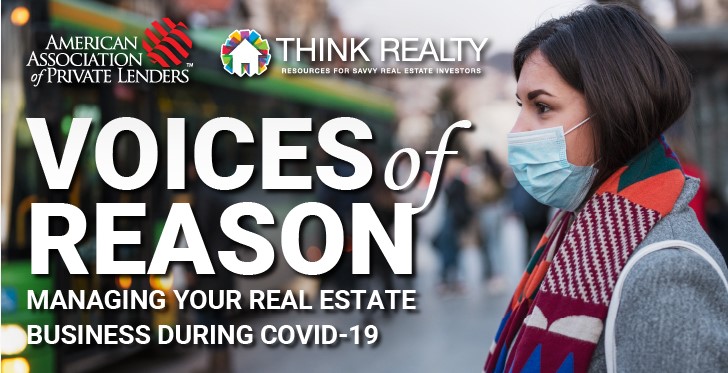 The current Coronavirus situation is unlike anything we have experienced in our lifetime. And while some of you are enthusiastic for positive opportunities, others are concerned and anxious. Regardless of which side of the emotional fence you're on (and it might change daily), Think Realty and the American Association of Private Lenders are with you. Opportunity is still great.
In this virtual event moderated by our CEO, Eddie Wilson, we bring you some of the top minds in private lending and real estate investment to talk practical insights and crisis response initiatives that you can implement immediately. You'll learn how to navigate turbulence and uncertainty in the real estate market so your business not only survives, but is in a position to capitalize on the opportunities such times present for those willing to roll up their sleeves.
6:18 — Chris Ragland — Communication is Key: What to tell your team, your investors, and your clients during a time of uncertainty.
28:09 — Eddie Wilson, AAPL & Think Realty — Leadership in tough times; potential market outcomes.
1:12:00 — Nate Trunfio, Direct Lending Partners — With Wall Street in flux and institutional lenders making major adjustments, what is private lending's role?
1:48:00 — Robert Martinez, Apartment Rockstar — How to boost leasing during social distancing with digital tours and VR.
2:12:00 — Steve Rozenberg, Mynd Property Management — Using lessons from history to navigate COVID-19.