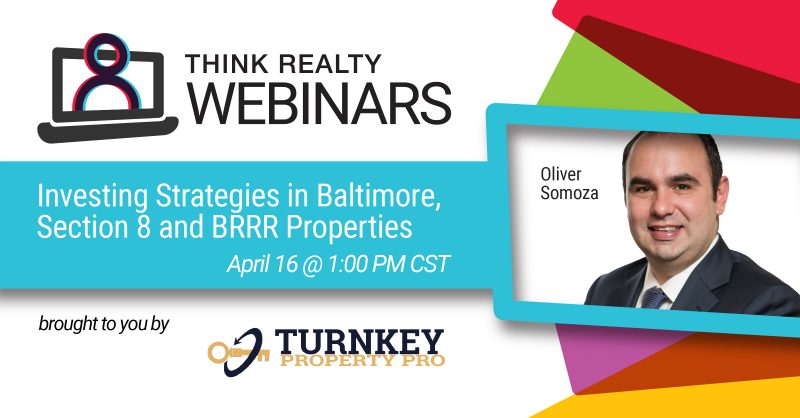 Think Realty is providing you with another FREE WEBINAR! On April 16th at 1PM (CST), Oliver Somoza from Turnkey Property Pro will be speaking about "Investing Strategies in Baltimore, Section 8 and BRRR Properties."
Topics that will be discussed include:
What is a BRRRR?
How does it differ from a classic turnkey deal?
What makes for a good BRRRR candidate?
Can any turnkey investment property be a BRRRR?
What makes Baltimore a good "BRRRR" market?
Can you do a BRRRR on virtually any property in a good BRRRR market?
Let's review a typical (and actual available) BRRRR deal.
Why does the BRRRR strategy increase your ROI and velocity of money?
On Rented Properties in Baltimore:
Low Purchase Price, High Rent
Section 8 rentals
Appreciating market
Neighborhoods – Property Management Overview
After registering, you will receive a confirmation email containing information about joining the webinar.
Important Details:
Date: April 16, 2020
Time: [1:00] P.M. (CST)
Presented by: Oliver Somoza from Turnkey Property Pro