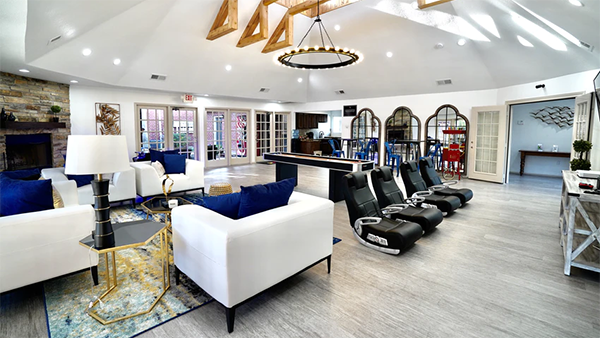 How company culture can shape an industry and create generational wealth
My career in real estate started with a "red pill, blue pill" moment. It felt like a whole new world had been opened up to me, one that had been right under my nose my whole life.
I grew up in McAllen, Texas and followed the advice that everyone gets when they're young: make good grades, go to college, make good grades, and get a good job. I graduated high school, went to Texas A&M, got my engineering degree, and started a career in oil and gas sales and, for a time, surged ahead in my career. I realized sales was one of my particular strengths and began improving those skills every day while I chased the top of my bonus structure.
Every time I got close to reaching that high end, my parameters were changed. It happened over and over, with all of my hard work wasted by moving goal posts. I started looking for something better and that's when my "red pill, blue pill" moment struck. I found a real estate podcast and listened to it every chance I got.
I took every opportunity to educate myself and peer deeper into a world that I had always assumed was only for the rich, but as it turned out, the door was open for me to join it. I joined a real estate club and started investing even further into myself and my real estate education. Then, I took the biggest leap of my life, quit my job, and started working in multifamily real estate full-time.
I went from a six-figure paying sales job, to sitting in the leasing agent's chair at that first apartment complex so I could learn the business from the ground floor, up. I knew it was imperative to experience each part of running the business, because it was my goal from the beginning to create a different kind of company from what I had been constrained by. I wanted to create a culture based on heart, care, and a shared drive to be the best of the best.
A few years later, in 2011, I went out on my own to start Rockstar Capital. That was the single most impactful decision I have ever made. Ten years later, Rockstar Capital has an industry-leading 19 city, state, and national apartment association awards, 13 cash-out refinances, and I have the distinction of becoming history's only two-time National Apartment Association Independent Owner of the Year. Each of these distinctions is a direct result of the incredible team and culture we have spent the last 10 years cultivating.
We have created a company where we value heart over talent and, every day, focus on how to continue bettering ourselves. The level of creativity, motivation, and drive that permeates our office every day is palpable. We all see each new accomplishment as a new benchmark to surpass the next time.
Just recently, we sold one of our first acquisitions as Rockstar Capital to a 9x return to our investors, far surpassing any expectation we had going into that deal. I remember wondering, "How am I going to be able to raise the money to purchase this on my own?" Ten years of honing our team, processes, and culture later, it has become our greatest success story yet.
Our unique position as both the owner and operator of each of our deals means that we get to train and deploy our own teams to each community we add to our portfolio. We're given an agency over the performance of each asset that is hard to find in the multifamily industry; when there's an issue, we can address it immediately. No red tape.
Now, we are holding equity raises over 13 TIMES the size of that. We're buying newer, bigger, and better assets for our investors and people are starting to notice. Your track record is one of your greatest tools and we guard ours with our lives. In 10 years, Rockstar Capital has never lost investor money and never performed a call for cash. Those are poison pills that kill companies. Instead, we project conservatively and work to outperform what our investors expect.
Great deals aren't found, they are made. Our underwriting teams are constantly looking into new opportunities for our investors, and we are extremely selective in the deals we actually present for investment. To give that some context, since January 1, 2021, we have already underwritten over $2.5 Billion in potential assets, all a part of searching for the best deal for our investors. When we do find a winner, we formulate a specific plan all the way to disposition. That means we know who our team will be onsite, what upgrades and improvements we will be making, and even what our exit plans will be.
It is hard for me to imagine my life without Rockstar Capital and this incredible team I've surrounded myself with. Multifamily real estate changed my life's trajectory and created generational wealth that I will be able to pass on to my boys. I have already far surpassed any personal expectations of myself I had, and now, I'm working towards the legacy I can leave. There's no limit to what I can build with Rockstar Capital and I have the team around me that makes me never want to do that alone. We are out to change the lives of our investors, team, and residents, one deal at a time.
To learn more about Rockstar, please visit www.rockstar-capital.com.