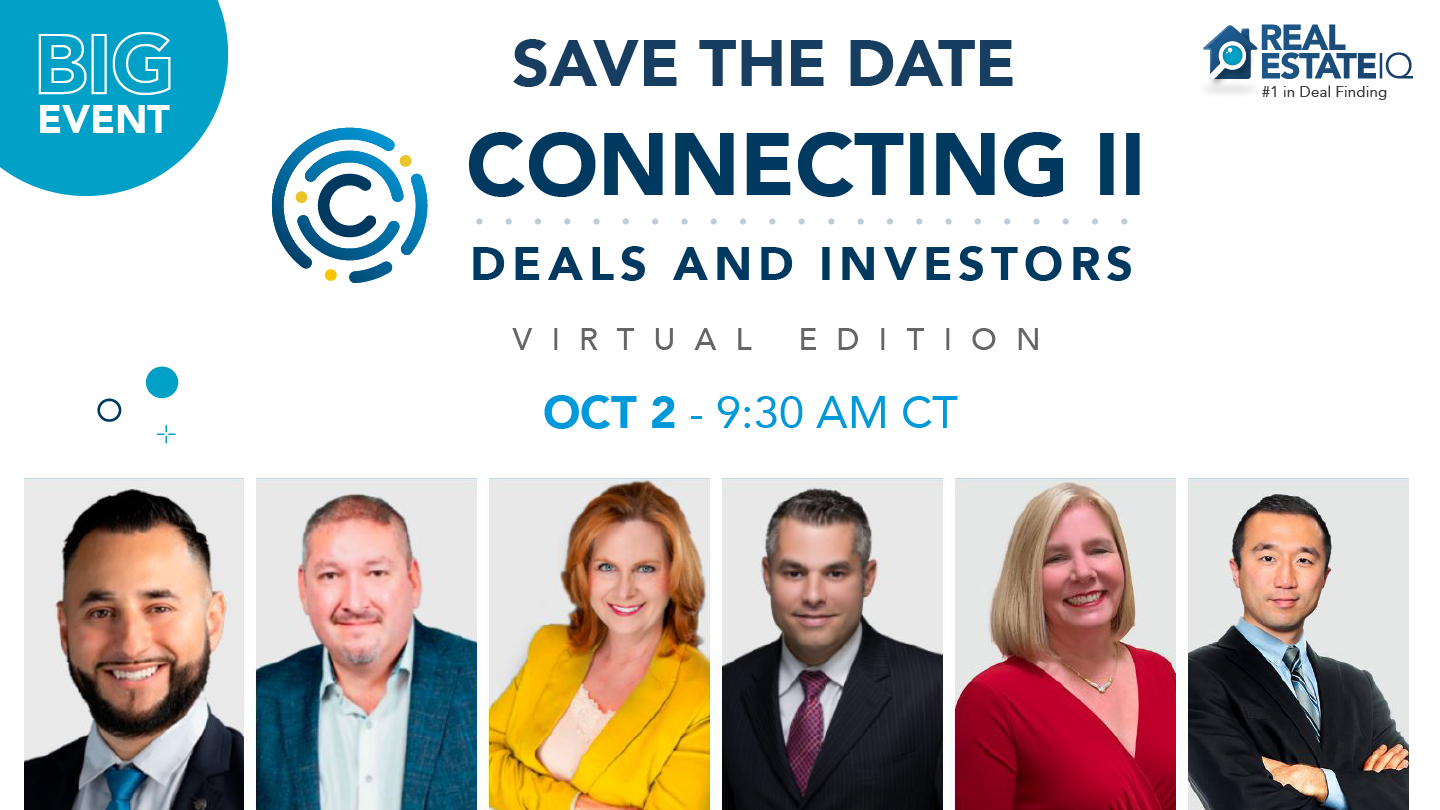 The second edition of Real Estate IQ's main event will be held virtually on October 2. Hurry up and register now: the first 100 attendees get a free ticket!
Mark your calendars because Real Estate IQ's second edition of "Connecting: Deals and Investors" is ready to blow your mind! After an outstanding first experience, this event has become a must among real estate professionals. If you want to learn everything there is to know about exit strategies, find out the latest trends in the industry, and network with real estate investors around the U.S., you simply can't miss it!
"Connecting II: Deals and Investors" will be held virtually on October 2, 2021, and the first 100 subscribers get a free ticket! So maybe you'd want to click here, let's say right now, and save your seat? We thought so!
Here's the essential information you need to know:
When: October 2, from [9:30] AM to 2.30 PM (CT)
Where: through Airmeet and from the comfort of your couch!
Who: 6 professionals in the real estate industry, you and a bunch of real estate investors!
Why: to learn and network with experts and peers from across the country.
"Connecting II: Deals and Investors" will have a focus on short-term rentals, fix and flip, wholesaling, new trends in Real Estate, data analysis and management, and brand development advice and opportunities. To achieve that, the following speakers are ready to bring their A-game:
Jorge Contreras – He's a real estate investor and coach, passionate about helping people create time, financial, and location freedom with Airbnb and Real Estate Investing. He retired at age 29, became a millionaire by 30, and now earns multiple six figures with his Airbnb Business.
Ricardo Rosales – With over 200 rehabs (holds and flips) in his pocket, Ricardo started a wholesaling business in the Houston area. He currently has 23 ongoing flips, a few other properties rented, and several properties on the market for retail and wholesale.
Lea Zequiri – As a TREC licensed instructor for real estate investing and a coach for Top Texas Real Estate Investor Network, Lea is a specialist in flipping houses. She became a real estate agent in 1998 and a broker in 2002 and has flipped and sold hundreds of properties in DFW.
Jorge Guerrera – Jorge has been recognized as a real estate expert and international keynote speaker, thanks to analyzing the accelerated industry we work in.
Becky Kromminga – Becky is the hostess of the event and Real Estate IQ's consultant. She loves to apply her skills as a former Math Teacher and Educational Researcher to Real Estate Investing. She has experience with buy and hold, wholesaling, flipping, and subject to.
Steve Liang – As the CEO of Real Estate IQ and a national speaker, Steve focuses on helping real estate entrepreneurs reach their potential and achieve more than they can imagine. He has spent most of his career practicing leadership, management, marketing, strategy, and execution. He was recently mentioned for the Silicon Review as one of the 30 best CEOs of the year.
Plus, since we saw a fantastic response to our first edition, we decided to host our main event through Airmeet once again! This means that you'll be able to move around multiple thematic tables, interact with our experts and other attendees, and chat with other participants.
This is an event where you have an active role. We don't want you to sit on your couch and just see one presentation after another. We want you to share, to speak, to be visible, to network. Click here to get your free ticket and get ready to make the most out of this experience!