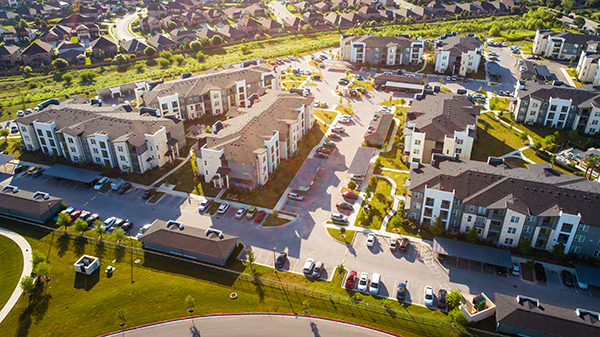 What work-from-home means for the self-storage sector
Remote work has been an option for some workers in the past few years, but the pandemic has pushed the movement into the mainstream. As a result, the home took center stage for those workers that could carry out their job duties remotely. This meant that for renters — who, unlike single-family dwellers, simply did not have that extra guest room or den that could easily be converted into an office — working from home became a challenge in terms of finding adequate room for a dedicated workspace. This is where business centers as a community amenity came into play. Even if they were only partially utilized pre-pandemic, their utility became paramount for renters looking to escape the confines of an apartment in order to carve out a dedicated space for working.
But do all cities offer the same kind of opportunity to work within the rental building in a business center? According to a report issued by STORAGECafé, a nationwide self-storage marketplace, where you live has considerable bearing on whether you have access to this sort of amenity.
The report takes an overall look at community amenities offered within apartment complexes, considering over 82,000 large-scale buildings in the first 100 most populous cities. Several indicators were considered, including outdoor space (both courtyard and rooftop decks), swimming pools, spas, gyms, business centers, and basketball, tennis, and other sports courts. While some parts of the country fared better than others at either indoor or outdoor offerings, a slew of Arizona cities proved that renters in both city and suburban locations can enjoy a premier rental experience.
Gilbert, Chandler and Irvine take the podium for best cities for apartment community amenities
When it comes to the cities that offer the best mix of amenities, two Arizona cities, Gilbert and Chandler, are the first to pop up at the top of the list. An up-and-coming suburb, Gilbert, boasts close to 60 percent of its local apartment buildings outfitted with a diverse mix of community offerings. In Chandler, about 58 percent of rentals are equipped with similar community facilities. In the case of both cities, all large-scale apartments provide community outdoor space as this type of amenity is essential to ensuring a premier rental experience, especially as Arizona enjoys sunny and warm weather year-round.
Irvine, California is also among the contenders for the best city for rental community amenities, with as many as 55 percent of its rentals providing a diverse mix of community features that support a premier rental experience rooted in practicality and well-being. As in the case of the Arizona cities, Irvine also shines brightly in terms of offering access to outdoor space, given the similar climate that encourages spending time outside, whether it's within the rental complex or out in nature.
Irvine, CA, Plano, TX, and Austin are best at serving WFH renters
Besides considering which cities offer an overall excellent renter experience based on community amenities, the report also looks at how well cities fared in terms of offering business centers within rental buildings. While they might have seen fluctuating use before the pandemic, once stay-at-home orders took effect, they took on a new role as co-working spaces. This kind of feature varies greatly based on location.
Irvine gets top grades for an overall renter experience, and the city also comes first when it comes to providing access to business lounges within an apartment complex, with 77 percent of renter communities being able to offer this feature. The prevalence of this amenity aligns with the state's labor profile, as California comes first for its tech industry, supported by a significant percentage of its workforce in the technology sector (10 percent).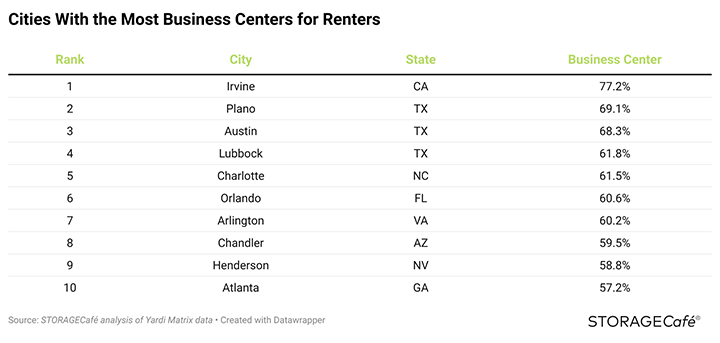 Renters in Texas cities can also have access to rental communities that cater to the needs of those working from home within a residential setting. In fact, Plano (69 percent), Austin (68 percent) and Lubbock (61 percent) rank next for their rentals' capabilities to support WFH by providing business centers as an amenity. This is hardly surprising given that Texas ranked fifth nationally for its tech-based economy, with about eight percent of workforce employed in the tech sector.
Charlotte is another city that fares well when it comes to providing renters with an opportunity to work from home within a residential business center in 61.5 percent of apartment buildings. Given that North Carolina is yet another state that boasts a large share of tech workers, demand for business centers within apartment buildings is high. Naturally, the local rental market responded to this demand appropriately.
At the other end of the spectrum, Buffalo comes last for the number of multifamily complexes (7 percent) that offer their renters access to a common business lounge where they can work without leaving their residential building. In the past 10 years, Buffalo registered low apartment construction levels, with about 2,100 units delivered. Apartments delivered during this time represent 17 percent of 2010's inventory. As for 2021, Buffalo boasts the third-largest construction projection among New York's largest cities, but co-working spaces are less likely to be a common amenity, given the low demand for this feature.
Renters can find additional support in self-storage as WFH trend is here to stay
About 29 percent of Americans are working from home in 2021, per US Census Household Pulse data. This shift rippled across their living arrangements. Renters that could access a business center within their residential building were able to find a dedicated workspace outside their homes. However, in the absence of a community business center, many multifamily renters had to find the space for a home office inside their apartments.
Making these functional changes to the home meant that some domestic items had to be displaced. But help came from a sector that usually plays its part behind the scenes, namely self-storage. Owners and operators of self-storage facilities created a solution where potential customers found it easy and safe to store their extra stuff, even amid pandemic challenges.
Active markets allow remote workers to make more room at home for offices
From a location point of view, some renters are more favored than others. Storagecafe also has data on self-storage supply across the nation and some cities appear much more prepared than others to address this rising need for storage space away from home.
Looking at the top 10 cities for remote workers, Houston is one of the metros best prepared to respond to a need for extra space. With over 9.4 square feet of self-storage space per person, Houston is expected to deliver more than 900,000 square feet of additional storage space to its already robust inventory in 2021.
The metros where the WFH population is strong, but the self-storage market is undersupplied are making strides to make up for the low inventory as compared to demand. In fact, metro areas that boast the highest rates of teleworking are also places where self-storage construction is thriving in 2021.
Boston comes first for its share of remote workers in 2021 (49.4 percent), per U.S. Census House Pulse Survey data – a sharp hike from the four percent that worked there under the same circumstances pre-pandemic. As the need for space outside the home naturally arose, developers amped up self-storage development, with projected construction in 2021 representing six percent of 2020's inventory. That's over 1M square feet of self-storage space!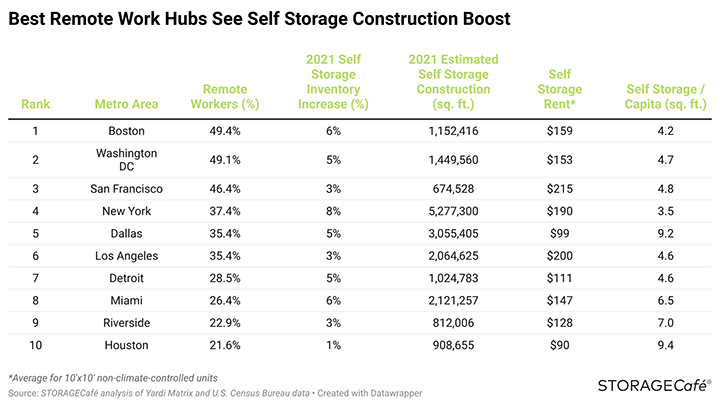 Following closely on Boston's heels, the Washington D.C. metro nabbed the second spot for teleworkers in 2021, with 49.1 percent of its workers operating remotely. As a vibrant economy that continuously attracts newcomers and new businesses – Amazon's second headquarters is located just over the river – D.C. is fast to respond to needs for housing and self-storage space. After a stellar last decade that saw some of the highest levels of apartment and self-storage completions in the country, the nation's capital is bound to continue on this path. In 2021, new deliveries are projected to cover five percent of 2020's existing inventory, or about 1.4M square feet of self-storage.
Tech-heavy San Francisco is another metro area with high rates of work-from-home individuals, with about 46 percent. It's not surprising that remote work remains strong here as more and more companies are either moving to a hybrid work model or they embrace WFH entirely. On the self-storage front, 2021's development is expected to cover about three percent of 2020's total square footage, or about 674,000 square feet of self-storage.
As America's financial center, the New York metro area also registers a high share of remote workers, 37.4 percent in 2021, an impressive increase compared to 2019's teleworking rate (4.6 percent). The self-storage sector has been responding to the metro's current demand for additional space, as 2021's estimated deliveries are equivalent to eight percent of 2020's inventory, or about 5M square feet of self-storage. The strong construction trend is in line with 2020's evolution. In fact, NYC registered the highest self-storage construction in 2020 among the largest markets, with over 3M square feet of self-storage added to the local pipeline.
---
Mirela Mohan is a creative writer for STORAGECafé. With an academic background in English and translation, Mirela now covers a range of topics including real estate trends, lifestyle and economy. Her previous experience in proofreading academic articles has inspired Mirela to choose a writing career path. In her free time, Mirela enjoys reading, but also hiking and creating art. You can contact Mirela via email. 
---