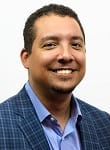 Think Realty Podcast #103 – Demetrios Barnes from Smart Rent
On this episode, we're talking how to take intelligence from home to community. Demetrios Barnes from SmartRent talks about expansion beyond just the smart home with smart delivery, parking, maintenance, amenities, and more. And that's just the beginning! Learn about SmartRent's Alloy Fusion Hub launch, which assists residents with controlling ...
According to a recent KPMG survey, 97 percent of real estate industry professionals think that digital and technological innovation will impact their business, and 93 percent agree that traditional real estate organizations need to engage with PropTech companies to adapt to the changing global environment.  According to Entrata Research, nearly ...