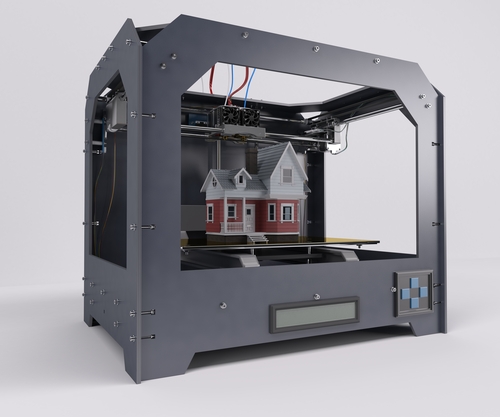 The future of home construction is on the verge of what could be a huge transformation. 3D printing technologies are advancing rapidly for the construction of homes and other buildings. And according to some ambitious entrepreneurs, we may see widespread use of that technology in the not-too-distant future!
One of those 3D construction start-ups is a new company called Cazza Construction Technologies in the San Francisco Bay Area. It was founded by 19-year-old Chris Kelsey who began coding at age 13 and left school at age 17 to run an app development company called Appstitude. He then sold the company for $10 million and started Cazza. His bio says he wants to "change the world" by revolutionizing the construction industry — at age 19.
His co-founder is Fernando de Los Rio, who also founded Peru's first online grocery store about three years ago and hooked up with Kelsey during the Appstitude project. He's now COO of Cazza.
These two geniuses are creating some amount of intrigue in the 3D printing industry. They are reportedly working with dozens of top engineers from around the world and with companies who've signed on as partners. They haven't revealed much publicly yet about their technologies, but are promising major announcements in the near future.
Benefits of the Technology
The Cazza website offers only a few snippets of information by listing the benefits that Cazza is promising with its technology. Topping that list is the cost of building a home.
Cazza says the machinery will reduce labor and material costs by up to 90 percent. That's huge! EDprint.com says the only human needed during the construction process will be someone who can add rebar reinforcements to the concrete printed material.
Second on the list, Cazza says 3D printing will reduce the time it takes to construct a home or building dramatically. According to EDprint.com, it will take about 10 days to build a 1000-square-foot home using just one machine. And if you had more than one printer on the job, that time is reduced substantially. Larger homes and buildings could be built with several robotic 3D printers working together.
Cazza also claims that transporting the machinery from job site to job site will be a snap, with just a 30-minute set-up time. The designing of the home will be done with software that will automatically program the machine to replicate the design. Plus, Cazza promises a clean construction operation with few wasted materials and little impact to air or water.
Withstanding Natural Disasters
The last big benefit could be huge in some areas if this technology takes hold. Cazza says these structures can be easily built to withstand earthquakes and hurricanes – which really is nothing short of miraculous.
The 3Dprint.com website has a recent article about Cazza. It says that Kelsey and De Los Rios have some lofty goals to 3D print smart cities around the globe. They told the blog they want to provide solutions to the global housing crisis, and are planning to do that with 3D printed homes that are more cost-effective, easy-to-build and can stand up to natural disasters.
The Cazza entrepreneurs are shooting for the stars. They told the blog that most major construction companies will be using their technologies within the next three years.
The blog also says that they've already opened several manufacturing facilities internationally to build these 3D printers. They've also developed a new construction material that's reportedly 10 times stronger than materials now used for standard construction.
Not so Far-Fetched as it Sounds
The idea may sound far-fetched, but Kelsey and De Los Rios have the technology and the expertise to make this happen. And it's not just for homes. De Los Rios says: "We already have the patented technologies available not just for houses, but also buildings and architectural structure of massive scale." He said: "Over the coming year we will begin showcasing more and more of our technologies, which involves far more than just 3D printing."
But Cazza is just one company working on this new construction frontier. There are several others. A Dutch company called CyBe Construction just announced a new 3D printer that can roam around a construction site. The company told the 3D Printing Industry News that its machine will have rubber caterpillar tracks with extendable legs to help it move across bumps or uneven terrain.
It's not clear how this compares to what Cazza is promising to deliver, but it may be similar. Both companies are promising to put 3D printers at the construction site.
The new CyBe mobile printer is one big step toward a fully automatic integrated 3D concrete printing system. The company has reportedly been testing the machine and plans to take it to Dubai during the first quarter of this year to 3D concrete print the new R&Drone Laboratory for the Dubai Electrical and Water Authority.
The 3Ders.org website says the use of this so-called "additive construction machinery" can already be found in many places around the world. We haven't seen a lot of it yet in the United States, but the blog says it's already a hot talking point in China, the Middle East and parts of Europe.
Dubai at Forefront of 3D Printed Buildings
Dubai has been at the forefront of 3D printed buildings, after announcing the completion of the world's first 3D printed office building and mansion in early 2015.
This technology still has a ways to go to become commonplace in any part of the world, due to printer immobility. Much of the 3D printing of homes has been done, so far, by creating modular pieces that are then transported to the construction sites. That's a laborious process since the pieces are quite heavy. Both Cazza and CyBe are working to eliminate that obstacle with mobile printers.
Will 3D printed buildings be a common sight in near distant future? It's apparently a technology that now has legs – and caterpillar tracks.
The world is changing rapidly and may be totally transformed over the next several years. It's never been more important to stay on top of changes, so you don't become irrelevant. Stay on top of the news at www.newsforinvestors.com
About the Author
Kathy Fettke is the founder and co-CEO of Real Wealth Network, a passive real estate investing club with more than 24,000 members. She's also the author of  "Retire Rich with Rentals" and host of "The Real Wealth Show," a featured podcast on iTunes with listeners in 27 different countries. Kathy is passionate about understanding real estate cycles so she and her members can invest in the best markets and best deals available today. She is frequently invited to share her expertise on CNN, CNBC, Fox News, NPR, CBS MarketWatch and in the Wall Street Journal.  Kathy received her BA in Broadcast Communications from San Francisco State University and worked in the newsrooms of CNN, FOX, CTV and ABC-7. She's past-president of American Women in Radio & Television. Kathy loves the freedom that real estate investing can bring. She lives in Malibu, California, with her husband and two daughters and enjoys traveling, hiking, rock climbing, skiing, figure skating and surfing.