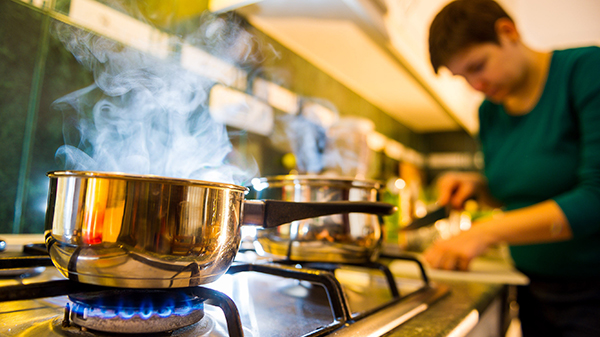 The peak day for cooking fires each year is Thanksgiving Day. For this reason, it's important that your tenant chefs are in a "state of readiness" for the holidays. Here are 10 tips to share with your tenants so they can enjoy a turkey-licious fire-free feast.
Top Tips
1| TEST YOUR SMOKE ALARMS TO BE SURE THEY ARE WORKING before guests arrive.
2| STAY IN THE HOME when cooking your turkey and check on it frequently.
3| STAY IN THE KITCHEN when cooking on the stove top. This way you can keep an eye on the food.
4| USE A TIMER TO HELP YOU MULTI-TASK. Thanksgiving equals multiple dishes cooked at once – a lot to keep track of!
5| ASK A RELIABLE "SOUS CHEF" TO HELP YOU IN THE KITCHEN. Four eyes are better than two.
6| KEEP FLAMMABLE ITEMS AWAY FROM THE STOVE TOP. Such as:  Oven mitts, wooden utensils and any other item that can quickly and easily catch fire.
7| KEEP THE FLOOR CLEAR so you don't trip over kids, toys, pocketbooks or bags.
8| KEEP KIDS AWAY FROM FIRE HAZARDS and other dangerous items:
The stove – 3 feet or more from that hot oven is a good rule of thumb.
Hot food & liquids – you don't want burns from steam or the splash of vegetables, gravy or coffee.
Knives – any pointy object perfect for sword fighting should be off limits.
Electric Cords – you don't want them pulling an electric knife, coffee maker or plate warmer down from the counter.
Matches and lighters – these should be kept up high in a locked cabinet.
Candles – never leave a child alone in a room with a lit candle.
9| KEEP A LID OR COOKIE SHEET CLOSE BY IN CASE A SMALL FIRE STARTS. You can smother the flames by sliding them over the pan and turning off the burner.
10| FIRES CAN SPREAD QUICKLY, SO WHEN IN DOUBT, JUST GET OUT! When you leave, close the door behind you, get to a safe location and call 9-1-1.
We hope these tips help you and your tenants have a safe, happy and fire-free Thanksgiving and Holiday Season!
This is an excerpt of an article originally posted at Affinity Loss Prevention Services. Click here to view the original article.
---
Enjoyed this article? Sign up for your FREE Think Realty membership to receive access to membership only content, benefits, and stay up to date on our upcoming events.