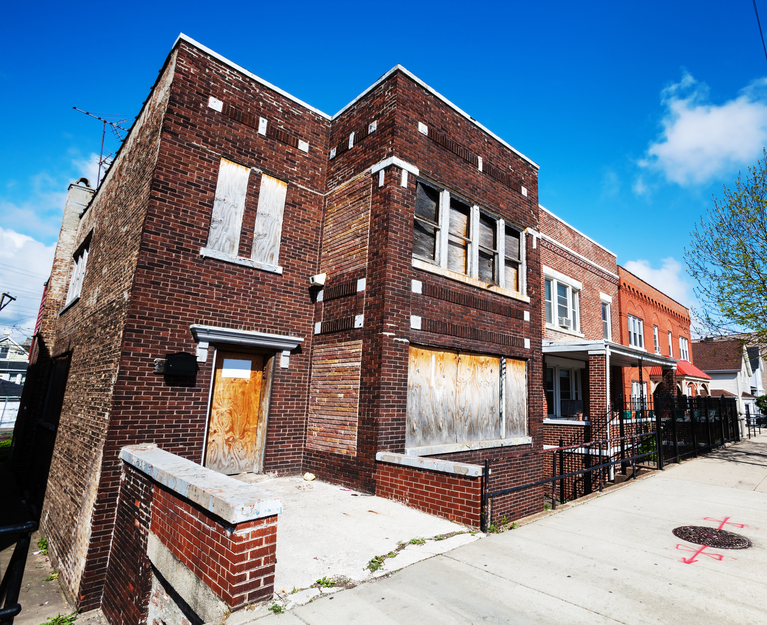 Effective this week, Fannie Mae is requiring "clear boarding" of its vacant properties in all states. The expanded requirement—outlawing the practice of boarding up pre- and post-foreclosure or REO properties with plywood—takes effect Nov. 9, 2016, with a 90-day adoption period for those servicing Fannie Mae properties to come into full compliance. Previously, the use of polycarbonate clear boarding had been mandated in nearly two-thirds of states.
The announcement was made by Fannie Mae at the National Property Preservation Conference, Nov. 2-4, 2016, in Baltimore.
Fannie Mae first began advocating clear boarding in 2014, with the practice gaining favor as a way to secure vacant properties without drawing undue attention or shielding illicit activity inside in the same way that plywood did.
Squatters, the homeless and graffiti are just a few of the problems vacant properties endure while awaiting a new owner. Fannie Mae recognized and acknowledged this as a growing issue in 2014 and has made changes to curb damage causing problems with its vacant properties.
In an effort to make vacant homes more attractive and deter illegal activities, in 2014 Fannie Mae initiated the requirement to use thick plastic sheets instead of commonly used plywood to cover the openings on vacant properties. The agency omitted the use of plywood, replacing it with the patented clear recycled polycarbonate SecureView window and door systems. SecureView is now the required standard for all Fannie Mae vacant properties. The ¼-inch-thick sheets are made from industrial grade recycled polycarbonate sheeted resins and are proven to be 200 times stronger than glass and will easily fit any opening on a vacant home. Using the plastic sheets, better known as clear boarding, creates a more attractive appearance and deters squatters from occupying the residence because you can now see into the property. It exposes their illegal activities, shedding light on distressed properties.
Fannie Mae initiated this initial requirement in September 2014 for the following states: Arizona, Illinois, Indiana, Louisiana, Minnesota, Ohio, Tennessee, Washington, Massachusetts, Maryland, New Hampshire, New York, New Jersey and Pennsylvania. Fannie Mae then set dates for the transition of Colorado, Connecticut, Mississippi, North Carolina and South Carolina for Oct. 1, 2014, followed on Dec. 1, 2014, by Arkansas, the District of Columbia, Delaware, Hawaii, Idaho, Maine, Montana, North Dakota, Puerto Rico, Rhode Island, South Dakota, Vermont, West Virginia and Wyoming.
"This is a major step forward for the cause of curbing urban blight across communities," Ed Delgado, CEO and president of the Five Star Institute, was quoted by M Report. "The application of plywood to a property is a tell-tale sign that the home is vacant and advertises it as a potential haven for criminal activity," Delgado said. "Removing plywood from the equation while advancing clear boarding is a game changer."