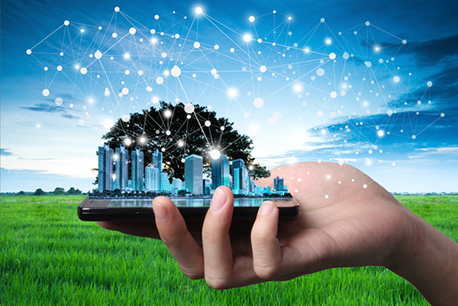 A high-tech neighborhood in Denver, Colorado, will serve as a test site for various technologies to show "what the future could hold," according to the city's "Smart City Project," an endeavor partnered with Panasonic. The neighborhood, known as Peña Station Next (PSN), will have everything from smart LED street lights to solar-paneled parking spaces. The entire area will also sport total wi-fi coverage and self-driving, autonomous shuttles. The community boasts that it has "an unprecedented level of connectivity and proximity" and that its "multiuse development…will house thought-leading companies, the latest retailers, and progressive residents." PSN is located near Denver International Airport and is connected to the rest of the Denver area via a commuter rail line.
For residents who have been itching to finally "live in the future," PSN is likely the answer. The residences feature "transparent televisions," which means "any window or surface can be turned into a television screen." The smart kitchens in the development are designed not only to contribute to smooth meal prep, but actually monitor food while it is cooking. And even adjust the temperature of the stove-top or oven if necessary. Built-in tables are designed to show videos or even provide security monitoring and wireless charging. Smart parking meters not only accept digital payments, but also offer directions to open spots and recognize license plates.
Not surprisingly, PSN was a major feature at the recent Consumer Electronics Show (CES) in Las Vegas, with the development's major partner, Panasonic, previewing what the development will feature as technology progresses. The area already has "smart" LED street lights and solar parking, for example, although the transparent television screens have  yet to be installed. The idea behind PSN is people can begin living, working, and exploring both the development and the technology within it while Panasonic observes how the entire community functions together. George Karayannis, Panasonic's vice president of CityNow, the company's "smart-city arm," described the experiment as creating a "living lab" that will enable Denver city planners and Panasonic to "bring new technology in and try it out at PSN, make sure the technology works and vendors make sense and then create the business model."
The LED streetlights are a good example of how having a smart-city model to experiment with can pay off. Thanks to their installation at PSN, research analysts quickly determined the initial "hefty investment" of putting in smart LED streetlights for a city will quickly pay off (within about three years). All thanks to an energy savings of 65 to 70 percent each year. The lights not only notify their human monitors when a bulb is out, but they automatically adjust for ambient light. As in the case of a full moon, and can be set to dim during periods when few people are out, such as, between midnight and 4 a.m. They can also be set to flash or otherwise guide people to safety or alert them to danger.
Read more of Carole's coverage of this and other topics at Self-Directed Investor News.
About the Author
Carole VanSickle Ellis serves as vice president of research and analysis at the Self-Directed Investor Society, helping investors "declare independence from Wall Street." Contact her at editor@bryanellis.com or visit sdiradio.com.