84 Lumber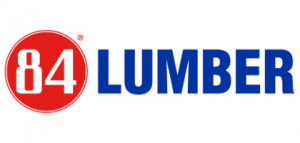 ---
Benefit Details
Complete the cash-based or credit-based 84 Lumber application and send it to the contact information listed on the application
You will receive a membership card within 2 weeks
Present the membership card at any 84 Lumber store to save 6% off regular retail prices
About
What You'll Find at 84 Lumber
Framing Lumber

Treated Lumber

Windows

Exterior and Interior Doors

Siding

Millwork

Insulation

Roofing

Trim

Drywall
Your Dedicated 84 Lumber Contractor Sales Rep
You can't afford to spend time playing telephone tag looking for your materials. You can count on your 84 Lumber CSR to oversee the estimating, pricing, delivery and billing of the entire job.
Check Out Product Lines at a Glance
84 Lumber is more than studs and drywall. This brief line card gives you an idea of everything you'll find at 84 Lumber.
Locate Your Store
If it can be built, 84 Lumber has likely been there. Use this store locator tool to see if they're in the neighborhood.
Get Materials Delivered to the Job Site
What good is the lumber if it's not at your job site? 84 Lumber's fleet of more than 1,500 delivery vehicles ensures you have the materials when you need them.