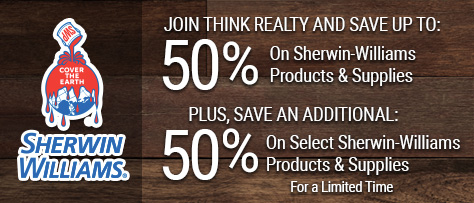 Membership with Purpose
With "gurus" and "huge opportunities" at every corner, the noise in real estate is so loud sometimes you can't even think. Wouldn't it be great to level the playing field by centralizing key resources and info that is actually valuable, so you can focus on success?
Take advantage of Think Realty Member benefits designed to help you enhance your investment strategy and optimize ROI. Think Realty is growing and continually adding more content and member perks. See our benefits page for all the details.
Choose your level below:
Intro Level:
Free
Buying Power
Group discounts with home improvement retailers
Up to 50% off Sherwin-Williams Paint
6% off regular retail prices at 84 Lumber
15-25% off retail, 3% off catalog prices at Barnett, a Home Depot company
And more!
---
Content
Latest industry articles, info, tips, and trends
Videos
Webinars
Podcasts
---
Resources
Magazine Archives
Lender lists
Wholesaler lists
Real Estate Investment Group lists
Investor Level:
$30/month
$330/year
Intro-Level +
Unlimited access to Think Realty discounts, content & resources, and much more...
---
Events
Free or discounted tickets
National and regional events
Networking
Learning
Deal-making
---
Magazine
Insight, strategies, and best practices from industry leaders
Print edition delivered to your doorstep
Digital edition delivered to your inbox
---
Education
Video content from Think Realty coaches covering a wide variety of topics including:
Wholesaling
Fix and flip
Commercial investing
Marketing
Social media
and more!
Affiliate Program:
Think Realty's Affiliate Program supports Real Estate Investor organizations in a number of ways.
Access for Your Members
Use your unique affiliate URL to get your members registered for unlimited access to supplier discounts, content including industry articles, videos, webinars and podcasts, resources and forums. In addition, group leaders receive Investor-level access to educational videos to use in your group meetings.
Plus, your members get a 10% discount on Investor-Level access!
---
Revenue Share
Earn revenue share when your members shop at select retailers with their Think Realty discounts and additional revenue share when they upgrade to a paid Investor-Level Think Realty Membership.
---
Event Opportunities
Gain access to speaking and exhibit opportunities at Think Realty Conference & Expo events as well as revenue share on group ticket sales.
---
Marketing & Member Support
Receive an affiliate promotion toolkit with images and emails to help you onboard group members into their Think Realty membership.
---
Magazine
Receive 10 Think Realty Magazines each month filled with insights, strategies, and best practices from industry leaders. Our contributors are RE investment pros and industry insiders who drill down to the information your members want and need to build wealth and be successful.
---
For more information, call 816-398-4130 or email info@thinkrealty.com