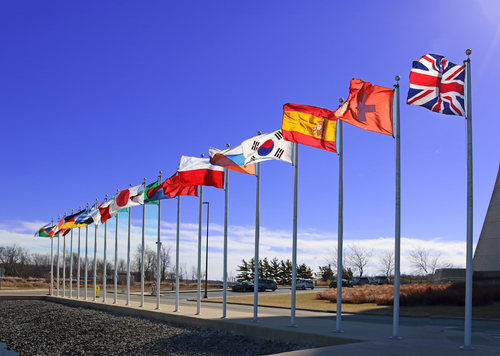 Real estate investing is definitely a global pastime. According to analysts from overseas real estate broker Tranio, $426.8 billion crossed international borders in the form of real-estate investments and related transactions. Of that staggering sum, $188.4 billion went into the commercial sector and the remaining $238.4 went into the residential sector. The United States was the largest beneficiary of this international investing trend, with about $149 billion coming into the country, mainly for residential property purchases. In fact, only about one in every $10 of the money spent by international investors on U.S. real estate went to commercial properties or development.
In addition to the U.S., the U.K. and Germany received large amounts of incoming investment money from abroad. "Unlike in the U.S., however, foreign investments comprise some 57 percent of the total commercial real estate market in the U.K.," observed analyst Sergey Kosarin. In Germany, 40 percent of incoming funds were spent on commercial property. France, Canada, Spain, Italy, South Korea, Australia, and Singapore rounded out the list of top markets overall, while Ireland topped the list for commercial activity with nearly three-quarters of all incoming funds going to commercial transactions in that country.
So who is spending all this money? Turns out, the citizens of Asian and Persian Gulf countries account for the majority of the spending, although a sizeable portion of investment money leaves the U.K., U.S., and Russia as well. "Top-ranking investment source locations in Asia were China, Singapore, Hong Kong, South Korea, and Japan, respectively," said Kosarin, adding that Chinese investments abroad consist mainly of office and hotel properties (85 percent). Second-place Singapore's portfolio was more evenly distributed across all real estate sectors. Interestingly, In the United States, Chinese investors tended to spend more on residential properties proportionally, than they did elsewhere in the world. "Chinese buyers tend to purchase American homes worth around $900,000, [while] individual investors often seek out second homes and income properties in major metropolitan areas, especially on the coasts," said Kosarin.
The analysts concluded that 2016 was likely an "impressively robust" year for international investing, and predicted that 2017 could also be robust thanks to "China's emergence as a major investment source." They also cited "impressive rebounding" in U.S. markets as a potential "harbinger for coming trends."
Sergey Kosarin and Thomas Espy are analysts at Tranio.com, an overseas real estate broker with 110,000 in 57 countries. More of their numbers and extended analyses can be viewed in full in Tranio publications and in Think Realty Magazine's print editions.