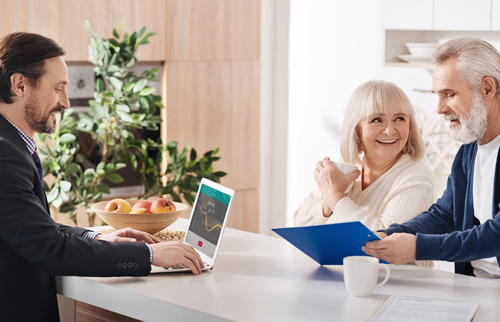 Retiring Baby Boomers are enjoying a big boost in home equity that could help pay for their retirement. But a new survey shows there's a surprising lack of understanding about home equity products, like reverse mortgages, among both seniors and their financial advisers. According to the National Reverse Mortgage Lenders Association (NRMLA), seniors saw an increase of 2.8 percent in their home equity during the fourth quarter of 2016. That's an additional $170.7 billion of a whopping $6.2 trillion worth of senior home equity. However, these homeowners often overlook their options for using that equity.
A recent survey by the National Council on Aging (NCA) on seniors and home equity products shows that home equity products, such as reverse mortgages, are being overlooked. The survey found many seniors and their financial advisors don't fully understand various home equity products, and concluded that more education is needed. NRMLA says the annual increase in senior home equity has been steadily rising. In 2014, it rose 8 percent. Then in 2015, it went up 8.6 percent. Last year, it gained 9 percent. Association CEO Peter Bell says, "It's time for consumers to study what it means to have home equity and to learn about its strategic uses, including how it can be used to support retirement goals."
For example:
Most of us are familiar with the typical home loan. You get a loan to buy a home, and you pay that loan back over time, with interest. It's secured with the home and your equity increases, as you make the payments. On the other hand, when you take out a reverse mortgage the lender makes payments to you, based on a percentage of your home equity. Over time, your equity decreases because the lender is basically buying the home from you. You also pay interest on the reverse mortgage, which is added to the amount owed for the home.
Reverse mortgage money can be taken in payments or a lump sum. The borrower must pay mortgage insurance on the reverse mortgage and must also be financially capable of paying property taxes, home insurance, and home maintenance. Once the reverse mortgage loan is approved, the borrower can choose how to use the money. It can be used to pay off debts, such as medical bills, to supplement income, or to finance home improvements. Some people use it to offset their primary mortgage payments. The reverse mortgage becomes due when the homeowner dies, sells the home, stops using the home as a primary residence, or stops paying the costs for maintaining the home. If necessary, the lender will sell the home to repay the reverse mortgage, and any additional money from the sale would go to the homeowner or the homeowner's estate. If the reverse mortgage ends up costing more than the value of the home at the time of the sale, the lender absorbs the loss.
Not every homeowner will qualify for a reverse mortgage. Only certain kinds of homes are eligible including newer single-family homes, condos, townhomes, manufactured homes, and two-to-four unit properties but only if the owner lives in one. Reverse mortgages may be a good option for those who are "house rich and cash poor." Many of the people who participated in the NCA survey have as much as 80 percent of their net worth wrapped up in home equity. Furthermore, four in five seniors said they plan to stay in their homes for as long as possible, which helps satisfy another requirement for a reverse mortgage — that the home is your primary residence.
Drawbacks of the reverse mortgage include, less wealth to pass on to children. However, if money is needed then tapping into home equity could also help eliminate the need for the children to pay for their parents' home. Fees and closing costs can also be high for reverse mortgages, which is partly why they have developed a negative reputation in recent years. As a Forbes blogger recently posted, reverse mortgages can be used responsibly as a financial planning tool. The blog says they were once a "last option" for retirees, but have more recently been incorporated into long-term plans, starting at an earlier point in the planning stage. They can also be leveraged against market downturns. A second advantage for homeowners is that they may take advantage of low interest rates is along with the amount you borrow will grow as you get older.
Forbes says that for anyone thinking about getting a reverse mortgage, it should be used as "part" of a broad retirement plan. Many homeowners find they can leverage their home equity in other ways in order to generate income during retirement or bolster a retirement portfolio. For example, you might borrow equity from your home at four percent, then invest that money in a private lending fund that pays a higher amount of interest, like eight percent. Of course, every situation is different, so you should consult your financial advisors before taking this step.
About the Author
Kathy Fettke is the founder and co-CEO of Real Wealth Network, a passive real estate investing club with more than 24,000 members. She's also the author of "Retire Rich with Rentals" and host of "The Real Wealth Show," a featured podcast on iTunes with listeners in 27 different countries. Kathy is passionate about understanding real estate cycles so she and her members can invest in the best markets and best deals available today. She is frequently invited to share her expertise on CNN, CNBC, Fox News, NPR, CBS MarketWatch and in the Wall Street Journal.  Kathy received her BA in Broadcast Communications from San Francisco State University and worked in the newsrooms of CNN, FOX, CTV and ABC-7. She's past-president of American Women in Radio & Television. Kathy loves the freedom that real estate investing can bring. She lives in Malibu, California, with her husband and two daughters and enjoys traveling, hiking, rock climbing, skiing, figure skating and surfing. Contact her at kathy@realwealthnetwork.com.